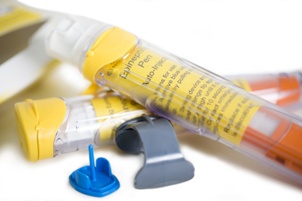 Anaphylactic allergic reactions do not have to be deadly. According to Dr. Scott Sicherer, author of Food Allergies: A Complete Guide for Eating When Your Life Depends on it, "The people who die from anaphylaxis are those who had a delay in treatment."
Recognize the Signs of an Allergic Reaction
An allergic reaction can occur almost immediately after eating a certain food or being exposed to a certain allergen, or up to an hour later. Symptoms may include:
Wheezing or trouble breathing because of constricted airways or swelling of the tongue or throat
Itchy throat or mouth
Trouble swallowing
Coughing
Hives or itchy skin
Pale or flushed skin
A weak and fast pulse
Low blood pressure
Dizziness
Fainting
Nausea 
Vomiting
Diarrhea
When these symptoms occur, it is critical to administer epinephrine (or an epi-pen) as soon as possible and to call 911 if anaphylaxis is suspected.
How Long Is Too Long to Wait for Anaphylaxis Care?
Anaphylaxis is a medical emergency that may result in death if treatment is delayed. However, the word "delay" depends on the circumstances. When determining if the emergency room was negligent and required your loved one to wait too long for medical care, it is important to consider:
The severity of symptoms. An outbreak of hives, diarrhea, or coughing doesn't always mean an allergic reaction is happening. An allergic reaction should be suspected, however, if the symptoms are severe, if more than one symptom occurs, or if breathing difficulties happen.
When epinephrine was administered. Epinephrine should be given immediately after an anaphylactic reaction. Emergency room staff should ask if epinephrine was administered before the person arrived at the ER.
What else is going on in the emergency room. Emergency rooms must triage and see the most critically ill patients first.
How your loved one was monitored. Monitoring is essential after an anaphylactic reaction. Anaphylaxis may come back—and it may be worse—hours after an initial reaction. This is known as biphasic anaphylaxis. Additional medications may be necessary.
When your loved one was discharged. Discharge should not occur until the risk of biphasic anaphylaxis has passed.
A delay in treatment could cost your loved one her life.
What to Do If Your Loved One Dies From Anaphylaxis in a Kentucky Hospital
The death of a loved one is devastating. It is especially tragic when it could have been prevented if reasonable care had been provided in the emergency room. As you mourn your loved one, you want to hold the emergency room accountable for her death, and you want to do everything you can to make sure that this doesn't happen to another family.
Without a medical malpractice lawsuit, the emergency room is unlikely to admit that its delay caused your loved one's death. However, if you do bring a medical malpractice wrongful death lawsuit and prove that the emergency room's negligence caused your loved one's death, you may recover:
Medical expenses. Any medical expenses your loved one incurred because her allergic reaction worsened due to the delay in emergency room care may be part of a wrongful death lawsuit recovery.
Lost income. Income your loved one would have been able to earn if she had received proper medical treatment and survived may be part of your recovery.
Out-of-pocket costs. These include miscellaneous expenses in addition to funeral and burial costs.
Pain and suffering. You may recover for any physical pain and emotional suffering your loved one experienced because of the emergency room's negligence and for the emotional suffering of surviving family members.
Loss of consortium. If your spouse died because of emergency room medical malpractice, you might recover damages for your loss of services, assistance, aid, society, companionship, and conjugal relationship.
Just as importantly, the emergency room may change its procedures to prevent future anaphylaxis deaths.
Your time to file a Kentucky medical malpractice case is very short. Please contact our Kentucky emergency room malpractice attorneys today if your loved one died from a delay in treatment. We will do a thorough investigation to find out why the delay happened and how it caused your loved one's death. Then, we will fight for your full and just recovery. Call us today or fill out our online contact form to have us contact you to schedule a free, no-obligation consultation.
Related Links: