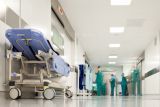 This isn't the first time that your loved one has gotten a serious infection in a nursing home. It isn't the first time that you've sat with her in the Intensive Care Unit (ICU) or that you've prayed for her quick recovery. It may not even be the first time that you've had questions about how or why she developed an infection.
Some Infections Occur Because of Nursing Home Negligence
While some infections may not be avoided with reasonable care, there are other infections that occur because someone failed to exercise reasonable care. If your loved one develops an infection in a nursing home, then you might consider whether:
Someone else was sick and not appropriately quarantined. Nursing homes should take actions to separate those who have contagious infections.
Staff routinely wash their hands and practice other infection avoidance techniques. Staff should reasonable care in maintaining appropriate hygiene so as to avoid the spread of infections.
Your loved one's catheter was routinely changed. Catheters that are not appropriately cared for may cause dangerous infections.
Nurses should have recognized possible symptoms of infection sooner. If your loved one had a fever, change in appetite, change in sleep patterns, was lethargic, or otherwise showed sign of infection, then the nurse should take action to have the condition diagnosed and treated promptly.
Your loved one's infection should have been diagnosed earlier. It is important for doctors to make accurate diagnoses so as to provide proper treatment quickly.
Then, you need to consider whether the doctor, nurse, or other nursing home worker exercised reasonable care when attending to or treating your loved one.
Nursing Homes Should Be Held Accountable for Their Negligence
Your loved one may have been older and she may have been in poor health, but she did not deserve to die because someone else failed to exercise reasonable care. If this happened to your loved one then your family may have rights. To learn more about how to protect them, please watch our free videos and browse our related links.
Has Your Loved One Been Injured In A Nursing Home?
If you believe your loved one is being subjected to nursing home abuse you need to speak with an experienced Kentucky nursing home neglect attorney as soon as possible. Contact us online or call our office directly at 888.450.4456 to schedule a free consultation.
Related Links: