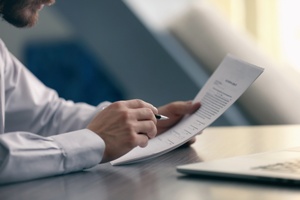 When you have been in an accident with a commercial semi-truck, you can be sure that the trucking company has a lot of the information you will need to support your accident claim. While Federal Motor Carrier Safety Administration (FMCSA) rules require the trucking company to keep certain safety information for a period of months or years, these rules may not require the trucking company to keep all of the information you will need. Additionally, trucking companies may not be required to keep the information for a long enough time to protect your rights, and some trucking companies may not strictly comply with the applicable regulations.
This can be frustrating and concerning. You need to get the information before the truck company destroys it so that you can prove what happened in your crash and so that you can make the fair truck accident recovery that you deserve.
Preservation of Evidence Letter
A preservation of evidence letter, also known as a spoliation letter or a preservation letter, needs to be sent to the trucking company as soon as possible after your accident. Once the trucking company receives this letter, the company is put on notice that it can not destroy evidence that you expect could be relevant to your claim.
Some of the pieces of evidence you may include in your preservation letter are relevant to the truck, some are relevant to the trucker, and some are relevant to the trucking company.
Truck Information
Details about the type of truck and trailer (if applicable)
Copies of permits
Inspection reports from pre-trip inspections, post-trip inspections, and daily inspections
Maintenance reports
Photos of the accident
Photos of damage to the truck
GPS, black box recorders, video footage or other electronic data that covered the truck or the trucker
Trucker Information
Commercial driver's license (CDL) information
The driver's daily logs that show how much rest time and driving time he had in a given period of time
Copies of the trucker's drug and alcohol reports
The trucker's medical report
The trucker's personnel file
Trucking Company Information
Any letters, email, or other correspondence related to the accident
The company's hiring policies and procedures
Other company policies and procedures
Other things may also be relevant, and every truck accident case is unique. Therefore, it is important to have an experienced truck accident lawyer draft your letter after carefully considering the circumstances of your truck crash. An attorney can make sure that your spoliation letter:
Includes specific requests so that the trucking company knows exactly what information you are requesting
Contains reasonable requests that the trucking company will honor
States the potential legal penalties and consequences for failing to preserve evidence
Is written professionally with a courteous tone
Is well-organized
Is sent to the right people
Is sent quickly before the evidence is destroyed
An attorney can take the decision-making stress off your shoulders and make sure your fair recovery is protected while you concentrate on your physical healing.
Trust Your Truck Accident Lawyer to Protect Your Rights
One of the ways your truck accident attorney will protect your rights is to make sure that all relevant evidence is preserved by drafting and sending a preservation of evidence letter, as discussed above. The letter will be comprehensive to protect your rights, and it will very clearly put the trucking company on notice so that no evidence is destroyed.
However, that's not all a truck accident lawyer can do for you. A truck accident lawyer can also analyze all of the evidence that comes from the trucking company and other sources to figure out what caused your truck accident injuries and to hold the right parties accountable for their negligence.
Have You Been Injured In A Truck Accident?
If you've been injured in a truck accident you need to speak with an experienced truck accident attorney as soon as possible. Please contact us online or call our Louisville office directly at 888.450.4456 to schedule a free consultation. 
Related Links: