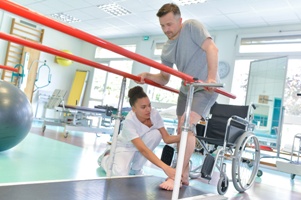 A brain injury has changed your life. Whether you suffer communication issues, memory problems, gross motor difficulties, or other challenges, your life is different than it was before your crash. As you prepare for the future, it is essential to get help in a variety of ways.
Work With People Who Can Make a Difference
A variety of people can help you with different challenges as you work toward protecting your future. These people include:
Family. Your relatives may provide emotional support and practical help with things you need around the house and transportation to medical appointments.
Friends. Friends may also help you with your practical needs, and you may find that it is easier to talk to them than to your relatives about your worries and concerns.
Doctors. Your doctors will diagnose your brain injury and recommend different treatment options.
Rehabilitation therapists. Some of the treatments recommended by your doctor may be done by rehabilitation therapists such as physical therapists, occupational therapists, and speech and language pathologists.
Witnesses. Anyone who saw your accident happen or who is an expert in car accidents or brain injuries may be important to any legal action you bring.
Brain injury lawyers. A brain injury lawyer can make sure that all of your legal rights are protected and that you get the financial compensation you deserve.
Depending on your unique needs, you can assemble the team that's right for you.
Let Our Experienced Brain Injury Lawyers Be Part of Your Team
If you've suffered a brain injury in a Kentucky motor vehicle crash, our brain injury law firm can be part of your team. We encourage you to contact us so that our experienced brain injury attorneys and staff nurse can provide you with a free case evaluation. We will schedule a free initial consultation so that you can get to know us, and we can learn more about your potential claim. After that, you can decide whether you want us as part of your brain injury recovery team.
Call us or contact us through this website any time—24/7/365—to learn more.