Car accidents can be life-altering events that can leave victims with physical injuries, emotional trauma, and financial burdens. A victim's life may be forever altered, affecting the victim's loved ones as well. In Louisville, car accidents are unfortunately all too common, and victims are often left to deal with the aftermath on their own. If you or a loved one has been injured in a car accident in Louisville, it is important to seek legal representation from an experienced Louisville car accident lawyer who can help you understand your legal options and fight for your rights. At Gray and White Law, our team of skilled Louisville car accident attorneys has years of experience representing clients and can help you get the compensation you deserve. Contact our law firm today for your free consultation. 
Louisville Car Accident Resources
What is a Louisville Car Accident?
A car accident is a type of traffic accident that involves one or more motor vehicles. Car accidents can vary in severity and can range from minor fender benders to serious collisions resulting in severe injuries or even fatalities. Causes of car accidents in Louisville can include driver negligence, reckless driving, distracted driving, speeding, driving under the influence of drugs or alcohol, poor road conditions, and defective auto parts, among other factors.
Common Examples of Louisville Car Accidents
Common examples of auto accidents in Louisville include:
Rear-end collisions: This is a type of accident that occurs when one vehicle hits the rear of another vehicle. Rear-end collisions are often caused by distracted driving, tailgating, or sudden stops.
Head-on collisions: This is a type of accident where two vehicles collide head-on. Head-on collisions are often caused by driver impairment, distracted driving, or driving on the wrong side of the road.
Side-impact collisions: This is a type of accident where one vehicle collides with the side of another vehicle. Side-impact collisions can be caused by running a red light or stop sign, making an illegal turn, or failing to yield the right of way.
Single-vehicle accidents: This is a type of accident where only one vehicle is involved, such as hitting a tree or a guardrail. Single-vehicle accidents can be caused by driver error, poor road conditions, or defective auto parts.
Pedestrian or bicycle accidents: These accidents occur when a car collides with a pedestrian or bicyclist. Pedestrian and bicycle accidents can be caused by driver inattention or failure to yield to pedestrians or cyclists.
What Are Some Common Causes of Louisville Car Accidents?
Kentucky is home to over 3.5 million registered vehicles, with 95% of these registered as personal passenger vehicles. The state averages over 150,000 traffic accidents each year.
There were 156 car accident fatalities in Louisville in 2022. The state of Kentucky shows a higher number of annual fatal car accidents than the national average. When measured in accidents per 100,000 people, the national average rate of fatal crashes in Kentucky is 17.9 compared to the U.S. average of 12.9 per 100,000 people. In 2021, there were 806 fatalities in car crashes in Kentucky, with 38% of the victims occupants of passenger cars, 3% commercial truck occupants, and the remainder victims of motorcycle, pedestrian, and bicycle collisions with motor vehicles. A startling 75% of the 429 driver fatalities revealed drivers with known blood alcohol levels compared to the national average of 59%.
Common causes of car accidents in Louisville and throughout Kentucky include the following:
Distracted driving: This is one of the most common causes of car accidents in Louisville and can include texting, talking on the phone, eating, or other activities that take a driver's attention away from the road.
Speeding: When drivers exceed the posted speed limit, they increase their risk of causing an accident. Speeding can make it difficult for drivers to stop in time to avoid a collision.
Driving under the influence: When drivers operate a vehicle while under the influence of drugs or alcohol, they impair their ability to react to road conditions and other drivers, significantly increasing the risk of an accident.
Reckless driving: This can include behaviors such as tailgating, weaving in and out of traffic, or failing to yield the right of way.
Poor road conditions: When roads are poorly maintained or designed, they can create hazards for drivers that can cause accidents.
Defective auto parts: When auto parts are defective or malfunction, they can cause accidents, such as brake failure or tire blowouts.
Louisville Laws on Car Accidents
Louisville car accident laws are based on Kentucky state laws, which govern the rules of the road, liability, and insurance requirements for car accidents. In Kentucky, drivers are required to carry liability insurance with minimum coverage limits of $25,000 for bodily injury per person, $50,000 for bodily injury per accident, and $10,000 for property damage. Drivers who are at fault for an accident may be held liable for damages, including medical expenses, lost wages, property damage, and pain and suffering.
In Louisville, drivers must follow all traffic laws, including obeying traffic signals, yielding the right of way, and driving at a safe speed. When a car accident occurs, drivers must stop at the scene of the accident, provide assistance to anyone who is injured, and exchange contact and insurance information with the other drivers involved. Failure to do so can result in criminal charges.
Louisville also has specific laws regarding distracted driving, which includes texting while driving. Drivers who are caught texting while driving may be fined and face penalties such as license suspension.
Proving Liability in Louisville Car Accidents
The injury victim bears the burden of proving the at-fault party in an accident liable in order to make a car accident claim. Your car accident attorney in Louisville will carefully document evidence to prove the following legal points of liability:
The at-fault party owed a duty of care to take reasonable measures to keep others on the road safe from injuries
They breached this duty of care by acting negligently or recklessly
Their breach of duty directly caused injury
The injury victim suffered damages from the injury.
Damages in car accidents are both economic losses and non-economic damages like pain and suffering.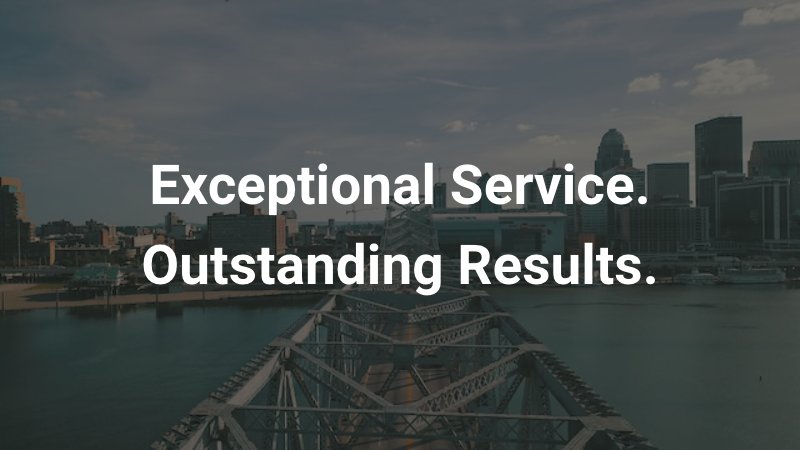 Statute of Limitations for Car Accidents in Louisville
In Kentucky, the statute of limitations for personal injury claims resulting from a car accident is one year from the date of the accident. This means that you have one year from the date of your car accident to file a lawsuit seeking compensation for your injuries and other damages.
It is important to note that the statute of limitations may be different for claims against government entities, such as a claim against the city for a poorly designed or maintained road that contributed to the accident. In such cases, there may be shorter deadlines for filing a notice of claim, which is a legal document that notifies the government entity of your intention to file a lawsuit. If you do not file a lawsuit within the statute of limitations, you may lose your right to seek compensation for your injuries and other damages.
The vast majority of car accident claims in Kentucky settle out of court through an accident attorney's direct negotiations with the insurance company of the at-fault party. When a skilled Louisville car accident lawyer investigates the accident, documents the evidence of liability, and sends a strong demand package to the appropriate insurance company, they can craft a compelling case for an ample settlement for damages. Only a small percentage of cases proceed to a lawsuit within the state's one-year statute of limitations if the insurance company fails to pay out on a valid claim or seriously undervalues a claim. While a lawsuit takes longer to resolve, jury awards for damages tend to be higher than a settlement amount.
What Damages Can Be Recovered in a Kentucky Car Accident Lawsuit?
Serious accidents quickly become expensive as well as traumatic and painful. Besides the property damage to your vehicle, you may also find medical bills piling up at the same time you're unable to return to work due to your injuries. A successful car accident claim in Kentucky can recover compensation for damages such as:
Medical expenses
Future medical expenses if your injuries require further treatment or ongoing care
Lost income
Future lost wages
Diminished earning capacity if you've become disabled due to your injuries
Pain and suffering
Other applicable non-economic damages in your case such as PTSD, trauma, disfigurement, traumatic limb loss, or loss of pleasure in life due to disability
Your Louisville car accident lawyer will carefully calculate your damages to maximize the amount of compensation you recover. While monetary compensation for intangible damages like pain and suffering cannot undo the pain, it can help open doors to the best possible medical care and relieve financial burdens while you focus on your physical recovery.
Areas We Serve
Our Louisville car accident lawyers serve all of Louisville including: 
Downtown Louisville, The Highlands, Parkway Village, Germantown, Old Louisville, St. Matthews, Crescent Hill, Clifton, Butchertown, East Market District, Shively, West Buechel, Audubon Park, Lynnview, Jeffersontown, Lyndon, Orell, Knopp, and many more
Louisville Car Accident FAQs
What should I do immediately after a car accident?
First, prioritize your safety and the safety of others involved. Call emergency services if necessary. Exchange information with other parties, document the scene, and seek medical attention for any injuries. Then, contact a Louisville car accident lawyer at Gray & White, PLLC for guidance.
How can hiring an attorney after a car accident benefit me?
Hiring an experienced car accident attorney, like us at Gray & White Law, can be crucial for building a strong case. We handle negotiations with insurance companies, gather evidence, and ensure you're fairly compensated for medical bills, property damage, and more.
How do I deal with insurance companies trying to settle quickly?
Be cautious of quick settlement offers. Insurance companies might not have your best interests in mind. Consult us before accepting any offer. We can help you assess the true value of your claim and negotiate for fair compensation.
Can I afford legal representation after a car accident?
Absolutely. We work on a contingency fee basis, meaning you don't pay us unless we win your case. Our priority is ensuring you receive the compensation you deserve, without adding financial stress.
How can I initiate a consultation with Gray & White Law after a car accident?
Scheduling a free consultation is easy. Reach out to us online or call (502) 210-8942, and we'll discuss the details of your accident, answer your questions, and guide you through the next steps.
What information should I gather at the accident scene?
Collect contact information from all parties involved, including witnesses. Take photos of the scene, vehicles, and any visible injuries. Also, note weather conditions, road signs, and traffic signals.
What role does evidence play in a car accident claim?
Strong evidence, such as photos, witness statements, and medical records, can significantly strengthen your case. Our Louisville car accident attorneys help you gather and organize evidence to build a compelling argument.
Contact Our Louisville Car Accident Lawyer Today
If you've been injured in a car accident in Louisville, you deserve justice and fair compensation for your losses. That's where we come in. At Gray and White, our experienced team of Louisville personal injury attorneys is dedicated to helping car accident victims like you get the compensation you deserve. We have the knowledge and resources to build a strong case on your behalf and fight for your rights in court. Don't wait to get the help you need. Contact us today online or call (502) 210-8942 for a free consultation, and let us help you get the justice you deserve.