The number one rule of medicine is "first, do no harm."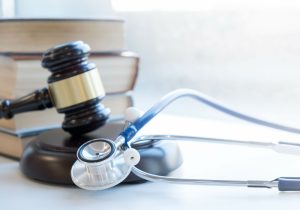 You, or a loved one, saw a doctor or went to the hospital for one of two reasons. You were looking for a cure or you needed pain relief. Above all else, you expected not to be injured—or killed—by the negligence of a Kentucky doctor, nurse, or hospital. By seeking care, you entered into an agreement with the medical   establishment. Pursuant to this agreement, the doctor, the staff, and the hospital should have treated you with reasonable care and should have used their knowledge to provide you with safe and competent care.
Sometimes, errors do happen. Doctors are there to help heal the wounded and cure the ill. However, the individual treating you may make a mistake or become careless. This lack of competent care can have devastating effects.
When a mistake occurs, the patient and the patient's family pay the price. The price of being a victim of medical malpractice is not only the dollar amount needed for additional care, missed work, or necessary medical equipment. The mental health of an injured patient may suffer as well, and family members who assume the care for the maltreated patient must rearrange their lives and shoulder an unnecessary burden.
The price can be enormous, but there may be a way to recover. Our experienced Louisville medical malpractice lawyers are respected throughout the Commonwealth of Kentucky and the nation. We conduct thorough investigations, with the help of the nurse whom we employ, we provide each client with the individual attention to make the best decisions possible, and we get results.
Below we describe some common types of medical malpractice and some examples of the cases we've handled:
Surgical Errors That Happen in Hospitals
Surgery was supposed to help you or your loved one. It was not supposed to make things worse. However, if a surgeon, nurse, or hospital failed to exercise reasonable care, then you may have been injured or your loved one may have been killed by a surgical error in a Kentucky hospital. Some common types of surgical errors include:
Operating on the wrong patient.
Performing the wrong operation on the patient.
Performing the operation on the wrong part of the body (i.e. the right knee instead of the left knee).
Removing the wrong organ from the patient.
Being distracted or failing to pay attention during surgery.
Failing to adequately prepare for the surgery.
Retention of a foreign object, such as a sponge or surgical tool, inside the patient at the end of the surgery.
Misreading a chart during surgical recovery and giving the patient the wrong medication.
Failing to inform a patient of and failing to treat a condition that is discovered during surgery.
Improper closing of the surgical site at the completion of the surgery.
Allowing an infection to develop because of the failure to properly sterilize the surgical environment.
We have successfully represented patients who have been injured and families who have lost loved ones due to surgical errors. For example, we helped hold the doctor and hospital liable when a routine hernia surgery turned fatal for a 50-year-old wife and mother. During surgery, the doctor mistakenly cut a blood vessel, causing significant blood loss and damage to the woman's spleen. The spleen had to be removed, and despite that trauma and the severe loss of blood, the surgeon continued with the original hernia repair surgery. After surgery, the woman developed sepsis but was released from the hospital. Shortly after her release she suffered a stroke from the sepsis. She was brought back to the hospital where she suffered additional strokes from her condition and her family was forced to make the difficult decision to remove life support. We worked with doctors and nurses to learn what really happened during surgery, to hold the doctor and hospital accountable, and to get a fair, confidential settlement.
Similarly, we were able to recover a fair settlement for the family of a 54-year-old husband and father who died after a surgeon clipped an artery during a gastric band surgery. Again, a surgeon went ahead with the originally scheduled surgery after an emergency situation developed due to the clipped artery. After surgery, the patient had signs of bleeding and sepsis and was released from the hospital anyway. He died at home. We were able to recover $2.5 million in this medical malpractice case.
Medication Errors
Medication is often an important part of treatment for patients. Whether you are in the hospital or seeking outpatient care, medication may help you control your condition, health, or manage your pain. However, when a doctor or nurse makes a mistake with your medication, the results can be catastrophic. More specifically, a medication error can cause lasting physical harm or death. Some examples of medication errors that can result in these types of consequences include:
Medication overdoses.
Not giving enough medication.
Failing to give medication at the right time or missing a dose.
Giving the wrong medication to the patient.
Failing to account for allergies or drug interactions.
Prescribing the wrong medication for the patient's condition.
Patients should be protected from these types of errors. However, sometimes they are not and we are here to help when the doctors and hospitals fail to do so. For example, we helped a man who went to the hospital for a common orthopedic surgery. The man happened to have diabetes and altered kidney function. Even so, he was prescribed narcotics to manage his pain when other, safer drug choices were available for him. He was not appropriately monitored while on the narcotics and he suffered cardiac arrest. He died five days later. We were able to secure a fair, confidential settlement for his wife and daughter.
Similarly, we represented a toddler who suffered a drug injury in a Kentucky hospital. The young boy had signs of infection. However, the doctor at the hospital prescribed the wrong antibiotic to treat his infection. He was sent home, but his condition worsened. He went back to the hospital and suffered a brain injury because of the uncontrolled infection. The brain injury will affect him for the rest of his life. We were able to secure a $3.4 million settlement for the injuries caused by the systemic failure of the doctor, nurses, labs, and pharmacy involved in his care.
Failure to Diagnose
Your treatment and your potential recovery start with an accurate diagnosis. When you visit your doctor to obtain a diagnosis for your illness, you trust that your physician will take the time to properly evaluate your symptoms to determine your medical condition. Sometimes a doctor does not provide the standard of care expected within his or her medical field, which can lead to a misdiagnosis.
Misdiagnosis and failure to diagnose are both considered medical errors if the mistake was made because a doctor failed to exercise reasonable care. Thus, it is important to consider whether your doctor:
Took your medical history.
Performed a physical exam.
Ordered appropriate tests such as MRIs, CT scans, X-rays, blood work, bacterial cultures, etc.
Referred you to a specialist or another doctor if an accurate diagnosis was difficult.
Failure to diagnose a serious illness, such as diabetes, cancer, heart attack, or stroke can result in complications or even death. We recently represented a young child who was brought to the hospital. The local hospital was worried that the child might have meningitis and, accordingly, transferred her to a larger Kentucky hospital for a diagnosis. The larger hospital failed to diagnose the child's meningitis and sent her home. Her mother brought her back to the hospital after she suffered a seizure and it was then that a meningitis diagnosis was made. However, the child had already suffered permanent brain damage. We fought hard for her quick and fair recovery and reached a confidential settlement that will provide for her current and future needs.
Hospital Negligence
While specific types of negligence are described above, they are not the only types of medical negligence that can result in a serious injury or death. Anytime a doctor or nurse fails to exercise reasonable care and that failure results in harm, medical malpractice may have occurred. For example, it may be medical malpractice if:
A patient is not appropriately monitored while in the hospital.
A patient is not advised to return for follow-up treatment on an outpatient basis.
A hospital fails to account for a patient's fall risk and the patient suffers a fall injury.
Any type of medical malpractice can be devastating. It can result in painful conditions that require additional medical treatment—it can change a person's life forever.
Medical Malpractice Wrongful Death Cases
In the most extreme cases of medical malpractice, loss of human life occurs. A wrongful death is any death caused by negligence on the part of the medical establishment. It is imperative that the survivors of this tragedy investigate the possibility that a mistake was made.
Our Kentucky Medical Malpractice Lawyers Are Here to Help You Get Compensation for Your Loss
By enlisting the help of the experienced Kentucky medical malpractice lawyers at Gray and White Law, medical malpractice victims, or their survivors, can understand how negligence has affected their lives and how to secure justice for their own suffering.
If you suspect that you or a loved one is a victim of medical negligence in Kentucky, please call Gray and White Law at 888-450-4456 for a free consultation.