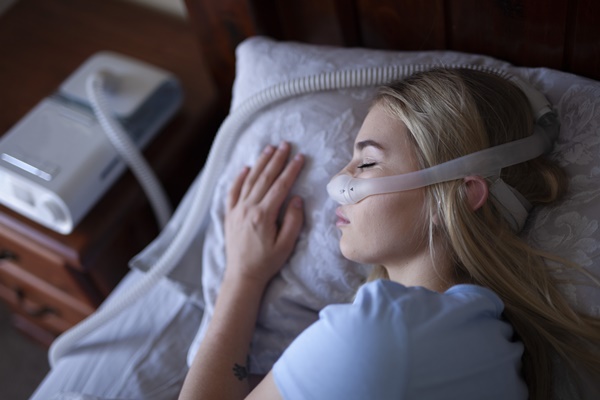 You used your Philips Respironics CPAP, BiLevel PAP (BiPAP), or ventilator to breathe easier or to keep you alive. At the time, you didn't know that the machine could cause cancer.
Unfortunately, three to four million people are impacted by a recent recall of Phillips sleep and respiratory care devices. You deserve to know what went wrong and what you can do next if you or someone you love develops cancer from one of these recalled devices.
What Went Wrong With Philips CPAPs, BiPAPs, and Ventilators
All of the Philips BiPAPs, CPAPs, and mechanical ventilators included in the recall had sound abatement foam liners made from polyester-based polyurethane (PE-PUR). PE-PUR may break down or degrade. While the deterioration may occur in any recalled machine, things such as heat and humidity and cleaning products containing ozone may cause PE-PUR foam liners to break down faster.
As the sound abatement foam liner degrades, it may release harmful and potentially toxic off-gas chemicals, including:
Diethylene glycol
Toluene diisocyanate (TDI)
Toluene diamine
Phenol dimethyl diazine
Methylene diphenyl diisocyanate (MDI).
People may breathe in or ingest these chemicals as the sound abatement foam liners deteriorate, and they may be at risk of developing various forms of cancer, including but not limited to:
Lung cancer
Liver cancer
Kidney cancer
Rectal cancer
Before you discover potential symptoms of one of these cancers, you may notice other symptoms that you were exposed to off-gassing or foam particles. These symptoms could include things like:
Coughing
Chest pressure
Headaches
Dizziness
Eye, nose, throat, or respiratory system or skin irritation
Nausea or vomiting
Sinus infections
Inflammation
Hypersensitivity
If you experience any of these symptoms, please contact your doctor as soon as possible and be sure to mention that you used a Philips CPAP or BiPAP machine.
Philips CPAP, BiPAP, and Ventilator Recall
On April 26, 2021, Philips notified patients, doctors, and the public of potential risks with some of its sleep and respiratory care devices. Philips followed up the notice with a voluntary recall of the following devices on June 14, 2021:
CPAP and BiPAP Devices
E30
DreamStation ASV
DreamStation ST, AVAPS
SystemOne ASV4
C Series, ASV, S/T, AVAPS
OmniLab Advanced Plus, In-Lab Titration Device
SystemOne, Q Series
DreamStation, CPAP, Auto CPAP, BIPAP
DreamStation GO, CPAP, APAP
Dorma 400, 500 CPAP
REMStar SE Auto CPAP
Mechanical Ventilators
Trilogy 100 Ventilator
Trilogy 200 Ventilator
Garbin Plus, Aeris, Lifevent, Ventilator
A-Series BiPAP V30 Auto Ventilator
The recall also covered three mechanical ventilators not marketed in the United States:
A-Series BiPAP Hybrid A30
A-Series BiPAP A40
A-Series BiPAP A 30
The recall applies to all of the above devices made before April 26, 2021, and includes all device serial numbers. Approximately 80% of the recalled devices were CPAP machines that people used at home to treat sleep apnea.
What to Do If Your Philips CPAP, BiPAP, or Ventilator Is Recalled
Philips recommends that anyone using a recalled CPAP or BIPAP stop using it immediately. Anyone using a mechanical ventilator should consult their doctor before discontinuing use.
You may have used your CPAP or BiPAP every night, and you may be worried about the cancer risk. You didn't know you were using a defective product, and you can't go back and change what happened. However, you can stay in control of your future by:
Checking your Philips CPAP or BiPAP for any evidence of foam erosion or degradation.
Keeping your Philips sleep device in its current condition in case it is needed as evidence later.
Reporting any concerning symptoms to your doctor and asking your doctor about cancer screenings.
Contacting an experienced injury lawyer if you develop cancer after using a Philips CPAP or BiPAP to treat sleep apnea or another condition.
Our experienced Kentucky medical device injury attorneys will investigate your claim and advocate for your full recovery, which may include compensation for past and future:
Medical costs
Lost income
Out-of-pocket expenses
Physical pain
Emotional suffering
Contact us today to schedule a free, no-obligation consultation with our Kentucky medical device injury lawyers. We are here for you 24/7/365.