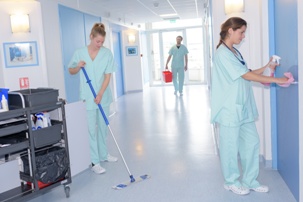 A nursing home is supposed to be a safe place where your loved one can get necessary skilled nursing care. You count on the nursing home to provide the right medications at the right time, to make sure that your loved one is properly nourished and hydrated, and to keep her clean. The nursing home's responsibility to protect your loved one from injury goes beyond these activities, however.
Nursing Homes Must Be Safe Facilities
Kentucky regulations require nursing homes to comply with specific housekeeping and maintenance standards to keep residents safe. Additionally, nursing homes owe their residents a duty of care, which includes making sure their facility is reasonably safe.
Unfortunately, despite the duty of care and state regulations, some nursing home housekeeping and maintenance issues still cause serious resident injuries. When an injury happens because of poor maintenance or housekeeping, the nursing home may be legally responsible.
Serious Injuries Caused by Nursing Home Facility Issues
Inadequate housekeeping or poor maintenance may not just make a nursing home resident uncomfortable. These forms of nursing home negligence can also result in the following kinds of injuries.
Falls
A slip and fall or trip and fall can happen if the facility is improperly maintained. For example, a fall can occur because of:
A slippery floor
Clutter or debris left on the floor
Torn carpeting or uneven flooring
Broken handrails
Broken bed rails
These facility issues present risks for all residents and not only for residents who are identified as fall risks. A fall injury can include broken bones, internal injuries, head injuries, and even death.
Infections
Nursing homes are responsible for:
Providing clean bed linens
Doing a resident's personal laundry (unless otherwise agreed to with resident or family)
Implementing a pest control plan
The failure to take one or more of these actions could cause an infection, and infections are life-threatening for many senior citizens.
Burns
Burn injuries or fires that cause burn injuries can occur if a nursing home:
Fails to maintain electrical wiring
Fails to maintain a safe water temperature for sinks and showers
Fails to have properly working fire detectors
Fails to adhere to building fire codes
Burn injuries are often painful and dangerous for nursing home residents. Pre-existing medical conditions and changes in the skin as people age often make it more difficult for burns to heal and make it more likely for infections to develop.
What to Do After a Nursing Home Facility Injury
If your loved one has been hurt by a nursing home maintenance or housekeeping issue, you can help protect your loved one's recovery by:
Getting Your Loved One The Right Medical Care 
Make sure that your loved one is seen as quickly as possible by a trusted healthcare provider. A prompt diagnosis and treatment plan can help manage your loved one's pain and improve her prognosis.
Protecting Evidence 
You could, for example, take pictures of any dangerous conditions that may have caused your loved one's accidents, and make note of any staff members, residents, or visitors who witnessed, knew about, or should have known about the dangerous conditions.
Change Nursing Homes If Necessary 
If the maintenance or housekeeping problems have not been resolved, it may be necessary to move your loved one to a different nursing home.
Protecting Your Loved One's Legal Rights
It was the nursing home's responsibility to provide a reasonably safe facility and environment for your loved one. If the facility's maintenance or housekeeping was not what a reasonable nursing home would provide and your loved one is hurt, she may be able to file a nursing home negligence case and recover damages.
Has Your Loved One Been Injured In A Nursing Home?
If you believe your loved one is being subjected to nursing home abuse you need to speak with an experienced Kentucky nursing home neglect attorney as soon as possible. Contact us online or call our office directly at 888.450.4456 to schedule a free consultation.
Related Links: