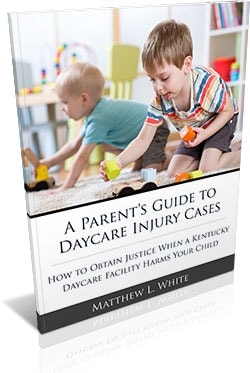 You'll never forget the day your child was seriously injured at daycare. You understand that accidents happen and that active kids get scrapes and scratches all the time, but something doesn't seem right to you about this injury. You trusted your daycare provider to nurture and protect your child, and instead, he is in the hospital.
Your child's care provider has a duty to provide a safe environment and to ensure that your child is properly supervised. If your child suffers a serious injury while at daycare, you need reliable legal advice. Start with our free legal guide, A Parent's Guide to Daycare Injury Cases: How to Obtain Justice When a Kentucky Daycare Facility Harms Your Child.
Everything You Need to Know Is in This Free Book
Our comprehensive legal guide covers all aspects of daycare injury, from regulations for daycare centers in Kentucky to coping with a catastrophic injury in a young child. We hope you never need them, but if you do, you'll find the answers to these questions in this guide:
What are the safety requirements for daycare centers in Kentucky?
How do lawsuits work for child injuries?
What are the causes of daycare injuries?
What constitutes child abuse in a Kentucky daycare center?
What are the sources of compensation for daycare injuries?
Do I need to hire an attorney for a daycare injury claim?
Our Attorneys Are Here to Answer Your Questions About Childcare Injury Claims in Kentucky
After your child's accident, it's important to hire an attorney who is confident, demonstrates accessibility, and who has experience in child injury cases. At Gray & White Law, we are committed to holding daycare facilities and providers responsible after an accident. Our team has the resources and experience to ensure that your child's legal rights are protected, and we'll negotiate a fair settlement for you and your child or take your case to court.
If you have any questions while reading this book, call to schedule your free case evaluation with one of our experienced attorneys today. We are here to answer your questions.
Get Your Free Book Now
Enter your information below to receive your free book