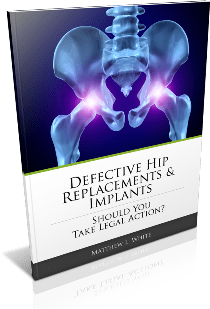 You went through the pain and trauma of a hip implant surgery in hopes that after recovery, you would have a renewed quality of life. You were looking forward to running, jumping, playing with your kids, and doing the activities you once loved. When you found out that the hip implant you received was defective, and you started to experience serious side effects, the surgery you thought would change your life for the better—seems to have suddenly taken another turn.
We've heard from people who have received defective hip implants and know just how difficult it can be to overcome the serious side effects that go along with a metal-on-metal implant. That's why we've put together this free report, Defective Hip Replacements & Implants: Should You Take Legal Action? One of the most difficult things for many people is knowing when it's time to take action. This report answers that concern for you.

Request Your Free Copy Today!
In this report, you can expect to get answers to questions, such as:
What types of complications are normal after defective hip implant or replacement surgery?
Who is to blame for your pain and suffering?
Which of the hip implants are potentially defective?
What must you do if you've been injured by a hip implant?
You don't have to suffer from the side effects of a medical device maker's negligence alone! At Gray & White, we understand what you're up against and we want to do whatever we can to ease the pain and suffering you've already endured. Please take just a few moments to fill out the form on this page to request your free copy of this informative report today.
Get Your Free Book Now
Enter your information below to receive your free book