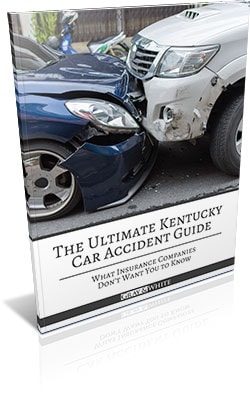 After a car accident in Kentucky, you may expect insurance to fully and fairly compensate you for your injuries and other losses. Unfortunately, this doesn't always happen. Insurance companies make money by paying you as little as possible and, as a result, are actively looking for ways to reduce their financial obligation to you.
At Gray & White Law, our skilled personal injury attorneys have more than 50 years of combined experience and have recovered hundreds of millions of dollars for our clients. We know the legal system and relevant laws inside and out—and we know the sneaky tricks and tactics insurance companies use to try to pay you less.
Request Your Free Copy of This Important Kentucky Car Accident Guide Now!
Our eBook, The Ultimate Kentucky Car Accident Guide: What Insurance Companies Don't Want You to Know, reveals some of the insurance industries deepest, darkest secrets: they aren't looking out for your best interests, probably aren't going to fully compensate you for your losses without a fight, and can even use the information you provide against you. It also addresses a wide range of other car accident personal injury insurance litigation topics, offering essential information you should know if you're considering taking legal action, including:
How insurance works after a Kentucky car accident
Tricks insurance companies use to devalue or deny valid claims
Key steps in the personal injury litigation process
Damages that may be available for your injuries and losses
Factors that could affect what your personal injury claim is worth
Mistakes that could hurt your car accident case
And more.
Request a free instant download of our eBook today. After reading it, you'll better understand your rights and options, be able to determine whether taking legal action is right for you, and recognize the benefits of hiring an attorney to handle your case.
Do you have questions about a Kentucky car accident case? Contact Gray & White Law today to schedule a free initial consultation. Our nationally-recognized attorneys aren't afraid of complex cases and are prepared to take your case to trial, if necessary.
Get Your Free Book Now
Enter your information below to receive your free book