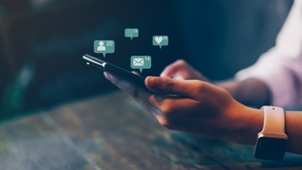 Your loved one went to the emergency room or urgent care clinic for immediate medical attention. Unfortunately, he didn't get it. Instead of promptly evaluating, diagnosing, and treating your loved one's condition, he waited a long time for medical care, and that wait caused his death.
You want to tell your family, friends, and, perhaps, the world what happened. Not only do you want to let everyone know that your loved one died, but you may want to let them know about the delayed medical care that caused his death.
Don't Post on Social Media
Posting on Facebook, Instagram, or Snapchat may seem like the most efficient way to let everyone know what happened. However, posting on social media can have unintended consequences.
If you decide to file a wrongful death lawsuit, the defense is going to look at everything possible to try to keep you from proving your case. One place the defense will look is your social media accounts. You should expect the defense to look closely at all your posts, everything other people post to your account, and all of the comments.
Even if you post something you think can't hurt your case, comments from other people may unexpectedly cast doubt on your claim. For example, someone could post, "Wasn't he suffering from chest pain last week?" or "I was worried it was serious because he sounded horrible yesterday!" These posts may be inaccurate, misleading, or incomplete. Yet, the defense may use them to discredit the wrongful death claim.
Should You Delete Your Social Media Accounts?
You don't have to delete your social media accounts or stay off of social media entirely. You should, however:
Make sure your privacy settings are set to the strictest levels
Avoiding "friending" anyone you don't know well
Avoid posting anything about your loved one or his death
Assume that the defense will see everything you post
Frequently monitor your accounts to see what other people are posting
Delay in medical care wrongful death cases can be complicated. Learn more tips for protecting your rights by browsing our FAQs and contacting us directly for a free consultation.