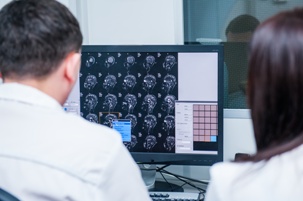 After you were injured in an accident that was not your fault, any lawyer who is admitted to the Kentucky bar can represent you in court in a personal injury claim. However, brain injuries are often nuanced and complicated. As in any personal injury case, you need to prove to the court that you are injured and that your injury was more likely than not caused by the defendant. In brain injury cases, you may need complicated medical evidence to prove your claim.
Our Brain Injury Law Firm Understands the Evidence
Unlike a personal injury case involving a broken bone or burn injury, the symptoms of a brain injury may be subtle and difficult to prove. If you have arm pain, for example, an x-ray may clearly show a broken humerus bone. If, however, you hit your head in a car accident or you were deprived of oxygen during a medical procedure, you may be experiencing headaches, confusion, difficulty concentrating, trouble sleeping, or other symptoms.
To recover damages, you must prove that the accident caused your symptoms. Your doctor may order tests such as a CT scan, MRI, or quantitative DTI to diagnose your injury. When the tests are complete, your doctor will explain the results and recommended treatment.
The insurance company or the defendant's attorney may question the test results to dispute the extent or cause of your injuries.
Protecting Your Right to Compensation With Our Experienced Brain Injury Lawyers On Your Side
Our legal team understands the science and will advocate for you to protect your rights and recovery. Our staff nurse and experienced brain injury lawyers have handled complicated brain injury cases before. We know what questions to ask your doctor and how to read test results. We also know when to call in expert witnesses to make sure that all questions are answered and that your case can be presented in a convincing way to the court.
Together, we have more than 70 years of combined legal experience, and we have represented hundreds of personal injury victims. We will provide you with personal attention and work tirelessly to help you get the fair recovery you deserve. Contact Gray & White any time—24/7/365—to learn more.