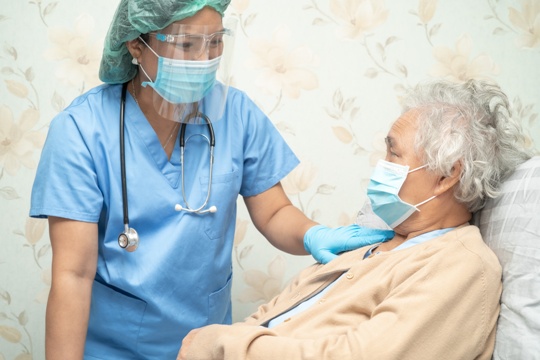 Covid-19 killed an estimated 100,000 nursing home residents and workers between the beginning of March and the end of November 2020. Many others suffered through difficult illnesses. Sadly, some level of illness and death was likely, just as it was in the community at large. However, some nursing home coronavirus illnesses and deaths may have been preventable. Did understaffing in nursing homes contribute to more Covid-19 outbreaks than was necessary? Keep reading to find out.
Understaffing in Nursing Homes May Be Linked to Covid-19 Outbreaks
Nursing home understaffing may have caused some dangerous and deadly infections.
An AARP report published in December of 2020 found that many nursing homes were understaffed and underfunded before the pandemic began. Researchers found that nursing homes that had lower quality ratings before the pandemic started were more likely to suffer the consequences of a coronavirus outbreak.
A study of data by the American Medical Association came to a similar conclusion last summer. In that study, researchers looked at nursing homes in eight states and found that nursing homes with higher staff-to-patient ratios had fewer Covid-19 infections.
Other factors, including federal nursing home laws, insufficient coronavirus testing at nursing homes, and lack of government inspections during the pandemic, may have also contributed to Covid-19 illnesses and deaths.
Nursing Home Infection Risk Continues Even After the Pandemic Subsides
We don't know precisely how long the coronavirus pandemic will continue or how many more people will become sick or die. However, we know that infections were a risk for nursing home residents before the global pandemic and that infections will remain a risk for nursing home residents even after the pandemic ends.
Nursing home residents and their families should expect a reasonable nursing home to:
Promptly diagnose and quarantine sick residents
Create and implement infection-control procedures
Have appropriate staffing to care for residents safely
Contact Our Kentucky Nursing Home Neglect Attorneys
If these precautions were not taken and your loved one was diagnosed with Covid-19 or another infection, we encourage you to contact our Louisville nursing home abuse attorneys. We want to help your loved ones or their survivors seek justice. Call us or complete our contact form, and we will contact you to discuss your legal options and potential recovery.