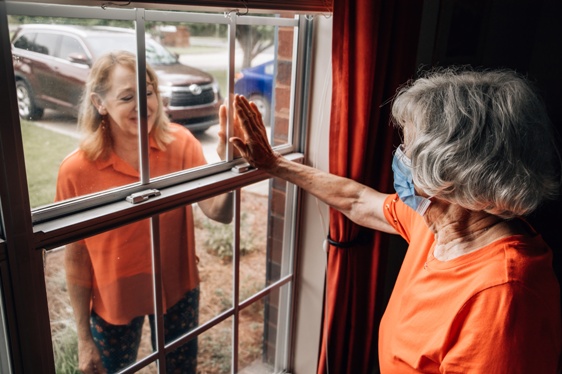 Nursing home workers have challenging jobs in typical times. During a pandemic, their jobs are even more difficult.
As Covid-19 broke out in nursing homes, nurses and patient aides were on the front lines. They faced significant health risks every time they went to work, and they brought those risks home to their families unless they made the painful decision to distance themselves from spouses, children, and parents.
As of January 21, 2021, 16,392 Kentucky nursing home residents and 11,994 Kentucky nursing home staff members had tested positive for Covid-19.
As a result of fear, burnout, and their own illness, many nursing home workers have left their jobs. While their reasons for quitting are understandable, their absence meant that some nursing homes are left without enough staff to care for residents safely. By mid-October 2020, approximately 25% of nursing homes around the country faced a shortage of direct care workers, according to information from AARP.
Residents at Risk From Nursing Home Staff Shortages
Without enough staff members to care for them, nursing home residents in understaffed nursing homes face several risks, including:
Infection. Nursing home staff may not have enough time to take infection control precautions when they are short-staffed. A September 2020 news report found that the eight Kentucky nursing homes with the highest number of coronavirus deaths had relatively few registered nurses per resident compared to other nursing homes in the Commonwealth.
Falls. Nursing home residents may have to wait a long time for assistance and try to do things on their own if there aren't enough staff members to help, which can result in dangerous falls.
Malnutrition and dehydration. Nursing home staff members may not have time to monitor residents' food and water intake, which could lead to malnutrition or dehydration.
Medication mistakes. Nursing home staff may not check medications carefully before providing them to residents, or they may not watch residents take medication if they are pressed for time.
Abuse. The pandemic stress and burnout may cause individual staff members to lash out and harm nursing home residents.
If your loved one was hurt in a nursing home, you deserve to know why. Our experienced Kentucky nursing home abuse and neglect lawyers will thoroughly investigate what happened to your loved one and hold the nursing home accountable for any acts of abuse or neglect. Please reach out to us any time—24/7/365—to learn more.