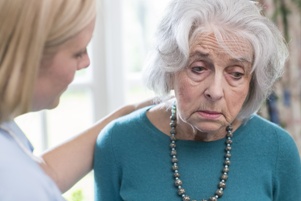 Visitation is a guaranteed right for residents in Medicare-funded nursing homes. Visitation benefits both the nursing home resident and the visitor. Residents often look forward to the conversation and companionship of their visitors. Visitors are able to enjoy time with their loved one and also to keep an eye on what is going on in the nursing home. They may notice that their loved one appears well cared for and secure or they may notice signs of nursing home abuse or neglect, for example.
Typically, a nursing home resident has the right to see or to refuse any visitor and the nursing home should have a broad and inclusive visitation policy. However, the nursing home must also protect the safety and welfare of the nursing home residents.
Kentucky Nursing Homes Must Allow Visitation and Protect Residents' Safety
While Kentucky nursing homes must allow residents to see visitors, they also have a duty to provide reasonable care in preventing injury to residents. They can accomplish both goals by:
Not allowing visitors who have obvious contagious illnesses or who are likely to be violent to have access to vulnerable residents.
Supervising residents so that visitors are not alone with residents other than those they are there to visit.
Respecting a resident's desire to refuse a visitor.
Promptly reporting any injuries of a nursing home resident so that an investigation can be completed and the injured resident can get medical care.
Additionally, nursing homes should comply with all of their established visitor policies and procedures.
Our Kentucky Nursing Home Abuse Lawyers Can Help If Your Loved One Was Hurt by a Visitor
If a visitor caused your loved one's injury, your loved one may have a claim against the visitor, against the nursing home, or against both the visitor and the nursing home. Our experienced nursing home injury lawyers will review every aspect of your loved one's case to determine who is liable and how best to protect your loved one's recovery. Then, we will pursue a full and fair recovery for all of the injuries, medical expenses, and pain and suffering your loved one endured due to the visitor's negligent or intentional actions.
Has Your Loved One Been Injured in a Nursing Home?
If you believe your loved one is being subjected to nursing home abuse you need to speak with an experienced Kentucky nursing home neglect attorney as soon as possible. Contact us online or call our office directly at 888.450.4456 to schedule a free consultation.