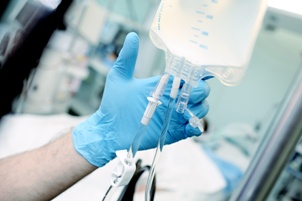 Sepsis is a medical emergency that requires immediate treatment to prevent life-threatening complications. While treatment won't prevent all sepsis-related deaths, the right treatment will save some lives and prevent other dangerous complications.
Sepsis Treatment Options for Nursing Home Residents
As soon as you learn that your loved one suffers from sepsis, a treatment plan should be developed. If your loved one is capable of making medical decisions, she should decide on a treatment plan with advice from a qualified doctor. Otherwise, her power of attorney may need to make treatment decisions with her doctor.
Some of the treatment options that might be available to your loved one include:
Antibiotics. To treat sepsis, doctors will administer antibiotics by IV. At first, a broad-spectrum antibiotic may be given. Once the nature of the underlying infection is determined, specific antibiotics may be administered to treat that infection. Often, more than one antibiotic is necessary.
Extra fluids. Extra fluids are often necessary to keep a person's blood pressure from dropping too low while sepsis is being treated. Fluids may be administered through an IV line or a central line.
Corticosteroids. Corticosteroids reduce inflammation. These medications don't help all sepsis patients, but they do help some people.
Endotracheal tube. Some sepsis patients must be intubated so that they can get breathing assistance from a ventilator.
Kidney dialysis. If the kidneys begin to fail, dialysis may be necessary to filter blood.
Vasopressors. Vasopressors are medications that are used to treat patients with dangerously low blood pressure. These drugs can constrict the blood vessels and cause blood pressure to rise.
Surgery. In some cases, surgery is necessary to remove infected tissue.
During sepsis treatment, frequent tests are often necessary. For example, arterial lines provide an efficient way for medical staff to monitor blood pressure and take frequent blood samples, and an intracranial pressure monitor measures fluid pressure in the brain.
Paying for Sepsis Treatment
Since time is of the essence, you should not have to worry about how to pay for sepsis treatment when you decide on a treatment plan. However, later, when the medical emergency of sepsis has settled down, you are going to need to figure out how to pay for your loved one's treatment.
If your loved one developed sepsis because of nursing home negligence, the nursing home should pay for sepsis treatment and all other sepsis-related expenses. To get the nursing home to pay for medical treatment, your loved one will need to prove that:
The nursing home owed her a duty of care.
The nursing home breached its duty of care by failing to act reasonably given the circumstances.
She developed sepsis because of the nursing home's breach of its duty of care.
She is legally entitled to damages according to Kentucky law.
Is it Time to Pursue a Sepsis Lawsuit?
Right now, you may not know why your loved one has sepsis. After a sepsis diagnosis, the most important thing you can do is to ensure that your loved one gets the right medical treatment for this dangerous condition. Then, you can contact an experienced Kentucky nursing home negligence law firm that can investigate why your loved one developed this dangerous infection and take action to hold the nursing home accountable, if appropriate.
Our staff nurse and experienced lawyers are here to see that justice is done, that your loved one or her estate is compensated for sepsis treatment and other sepsis-related expenses and losses, and that nursing homes are held accountable for their actions so that other residents are protected. To learn more, please contact us today for a free and confidential consultation. We are available by phone or through this website 24/7/365. You can also download a free copy of our report, Fighting Back Against Nursing Home Abuse: What Families Need to Know to Help Their Loved One, to begin learning more about your family's rights immediately.
Related Links: