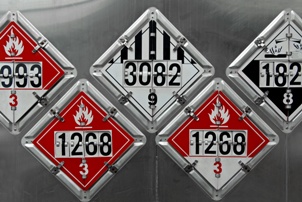 Sometimes it isn't the impact of the truck crash that hurts you the most. Instead, it is exposure to dangerous materials that the truck was carrying at the time of your crash that causes your most significant injuries.
Exposure to Hazardous Materials
The federal government recognizes nine different classes of hazardous materials that might be transported by trucks, including:
Class 1. Explosives
Class 2. Gases
Class 3. Flammable liquid and combustible liquid
Class 4. Flammable solid, spontaneously combustible, and dangerous when wet
Class 5. Oxidizer and organic peroxide
Class 6. Poison and poison inhalation hazards
Class 7. Radioactive materials
Class 8. Corrosive materials
Class 9. Other hazardous materials
Exposure to these types of hazards can occur during a truck accident and may cause:
Eye injuries
Burns or skin problems
Organ failure
Respiratory distress
If the truck involved in your crash was carrying any hazardous materials, then it is essential to tell the emergency room physician so that you can be examined and, if appropriate, treated for your injuries.
Damages for Injuries From Hazardous Material Exposure
After you receive medical care, the next step in your recovery should be to contact an experienced Kentucky truck accident lawyer.
You may be able to recover for all of your injuries caused by the hazardous cargo, but first, you have to prove who is legally responsible for causing your injuries. Our experienced legal team will thoroughly review all of the evidence and hold the liable parties accountable.
We will fight for your fair and just recovery of past and future healthcare costs, lost income, out-of-pocket expenses, physical pain, and emotional suffering. If a fair settlement can't be reached, then we will take your case to court and fight for your just award of damages.
To learn more about your rights and to make sure that your recovery is protected after you were injured by a truck's hazardous cargo, please contact Gray and White Law today for a free consultation about filing a truck accident claim. Call us or start a live chat with us any time—24/7/365.
Related Links: