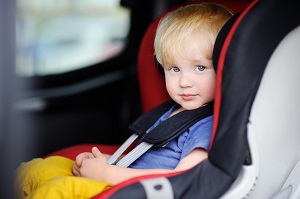 According to the Centers for Disease Control and Prevention (CDC), proper restraints are effective in preventing car crash fatalities and injuries in the following ways:
Car seats reduce the risk of death to infants under the age of one by 71%.
Car seats reduce the risk of death to toddlers aged one through four years old by 54%.
Booster seats reduce the risk of serious injuries to children age four through eight years old by 45% when compared to seat belt use alone.
Seat belts reduce the risk of death and serious injuries by about 50% for older children and adults.
Kentucky, like other states, has specific laws in place that require specific car seats and restraints for children.
Kentucky Car Seat Laws
According to the Kentucky State Police, >Kentucky car seat laws require that:
Children who are under 40 inches tall ride in an infant or child car seat.
Children who are between 40 inches and 57 inches tall and under the age of eight ride in a booster seat.
Children who are over 57 inches tall or over the age of eight wear a seatbelt.
In addition to these legal requirements for Kentucky, the American Academy of Pediatrics has the following car seat recommendations:
Infants and toddlers who are under the age of two should ride in rear-facing car seats until they reach the maximum weight and height for the seat.
Toddlers and preschoolers who have outgrown their rear-facing car seats should ride in forward-facing seats with a harness for as long as possible and until they reach the maximum weight and height for the seat.
School age children who have outgrown their forward-facing car seats should ride in booster seats until the reach four feet nine inches which typically happens between the ages of eight to twelve.
All children under the age of 13 should ride in the back seat with a properly fitting seat belt.
Car seats can be expensive, but they can save lives and sometimes they need to be replaced in order to keep your child safe.
The National Highway Traffic Safety Administration (NHTSA) recommends that car seats be replaced after all moderate or severe car crashes regardless of whether the car seat shows signs of damage and regardless of whether or not there was a child in the car seat at the time of the crash.
A car accident is considered to be moderate or severe and the car seat may need to be replaced if:
The vehicle cannot be driven away after the crash.
There is damage to the door closest to the car seat.
Anyone in the vehicle suffered injuries.
The vehicle's air bags deployed.
The car seat is visibly damaged.
Having to replace a car seat may create a financial burden for parents, so much so that some parents may risk having their child ride in a car without a car seat because they cannot afford a replacement. However, you may not have to pay the cost of a car seat replacement after a crash.
Contact Your Insurance Company
Before you replace the car seat, call your insurance company. Most insurance companies will reimburse you for the cost of the new car seat. If the accident was caused by another driver, you may want to contact his to ask insurance company about a replacement.
If the insurance company offers to replace the car seat, be sure to follow its instructions. Some will have you buy the car seat and then have you submit the receipt for reimbursement, while others may instruct you to buy the same model you had at the time of the crash.
If the insurance company refuses to replace the car seat then make sure to let your attorney know. This may be part of your car accident claim.
Parents can't protect their children from all car accident injuries, but making sure that children are in the right car seats can protect children from some serious injuries and fatalities. Accordingly, we encourage you to share this article on Facebook or Twitter so that other parents can take the necessary steps to protect their children on the road.
 
RELATED LINKS