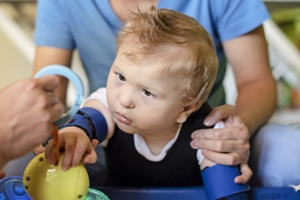 As the parent of a child whose cerebral palsy was caused by medical negligence, you will need to make a lot of decisions, including whether to pursue a cerebral palsy lawsuit. Before you can make this decision, you need to consider the potential compensation that your child may receive if you pursue a claim, the other benefits of legal action, and the costs of a lawsuit. Then, with all of this information, you can decide what to do next.
Cerebral Palsy Lawsuit Compensation
Not every child with cerebral palsy will recover legal compensation. However, if your child has cerebral palsy because of medical negligence and you file a lawsuit, he may be able to recover:
Medical expenses. Your child will likely have significant medical needs because of cerebral palsy. Any hospitalizations, surgeries, doctors' appointments, medications, or other medical needs should be part of his recovery.
Rehabilitation therapies. Throughout your child's life, he may need rehabilitation therapies such as occupational therapy, physical therapy, and speech and language therapy. These therapies are essential to your child's quality of life, but they are expensive.
Lost income. As a baby, your child wouldn't be earning an income anyway. However, as an adult, his income may be impacted by his cerebral palsy. You may not know how to begin calculating future lost income for a baby, but experienced cerebral palsy birth injury lawyers and expert witnesses can estimate the potential future lost income for you.
Physical pain and emotional suffering. Your child is currently and will later suffer physically and emotionally from his cerebral palsy birth injury. No amount of money can undo the physical and emotional pain, but our legal system does allow him to recover financial damages for these significant injuries.
Out-of-pocket expenses. Out-of-pocket costs may include, but aren't limited to, home and car modifications, specialized equipment such as wheelchairs, and assistive technology devices such as communication boards.
Other damages. Any other damages that were caused by the birth injury may be part of your child's recovery. For example, compensation for loss of family relationships or permanent injuries may be possible. If you can't work because you are caring for your child, your lost income may also be part of your family's legal recovery.
Above, we've described the possible financial benefits of a cerebral palsy lawsuit, but there are also other things to think about when deciding whether to file a cerebral palsy case.
Other Cerebral Palsy Lawsuit Considerations
You may decide to file a cerebral palsy lawsuit to secure your child's financial future, but your case may also have additional benefits. A lawsuit may hold the doctor, nurse, or hospital accountable for what happened, and new safety procedures may be put in place to prevent similar mistakes from happening in the future.
Cerebral Palsy Lawsuit Costs
To make an educated decision about whether to pursue a legal claim, you need to know not only the benefits described above but also the potential costs of a lawsuit. You may worry about the financial and emotional costs of pursuing a claim, but both costs may be less than you think.
If you hire the experienced cerebral palsy legal team at Gray and White Law, you will minimize your out-of-pocket expenses and stress. Our cerebral palsy lawyers, nurse, and other team members will:
Take care of all of the day-to-day aspects of litigation so that you can concentrate on raising your child
Thoroughly explain all of your choices so that you can make educated decisions
Not be paid unless you recover damages in a settlement. You won't owe us any hourly fees.
Your child deserves every opportunity in life. Your child is too young to understand the financial considerations of a lawsuit or to want to hold the doctor, nurse, or hospital accountable for his condition. However, as your child's legal guardian, you can make these important decisions.
Call us today, or reach out to us through this website, to schedule a free, no-obligation consultation about your child's rights and possible cerebral palsy lawsuit recovery.
Related Links: