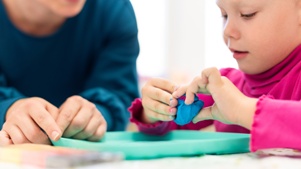 Your child is too young to have an occupation, but occupational therapy may be a critical part of his care if he has cerebral palsy.
Occupational therapy, commonly referred to as OT, is not about helping your young child get or hold a job now. Job-related assistance is known as vocational rehabilitation therapy, and that is typically for working-age people. Occupational therapy is different. OT helps people of all ages with activities of daily living. Occupational, in this sense, means daily activities. For your child, this could mean playing, socializing, or going to school, for example.
Occupational Therapy Benefits Children With Cerebral Palsy
Occupational therapists may work with your child on activities that promote independence and productivity. Now and as your child grows, occupational therapy will help him learn or adapt certain activities so that his quality of life improves. These activities could include:
Eating safely and neatly
Using the bathroom
Personal grooming activities such as brushing teeth, bathing, and getting dressed
Playing
Writing
Using a computer and telephone
Cooking and cleaning
Sitting at a desk or table
Using different tools, such as utensils or pencils, and adaptive equipment
Opening and closing doors, drawers, and lockers
Shopping
Navigating hallways, stores, and public spaces
You will work with the occupational therapist to create goals for your child based on his unique needs, abilities, and interests.
How to Find an Occupational Therapist
As is the case with many professionals, personal referrals are important. You can ask about occupational therapists who treat children with cerebral palsy when you speak to:
Your child's pediatrician
Your child's physical therapist or speech and language therapist
Other parents of children with cerebral palsy you know in the community
You can also search for names of occupational therapists with your insurance company, the Kentucky Board of Licensure for Occupational Therapists, or on an internet search.
How to Pay for Occupational Therapy
Your child's health insurance may or may not cover some occupational therapy. Even if your insurance covers some of your child's occupational therapy costs, however, you may still be left with significant out-of-pocket expenses that will add up over your child's lifetime.
Accordingly, if your child's cerebral palsy was caused by a doctor's mistake during labor or delivery, you should talk to a cerebral palsy birth injury lawyer about how to pay for occupational therapy and your child's other needs. You may be able to file a lawsuit that could help your child recover for past, current, and future:
Healthcare costs. Healthcare costs include not only hospitalizations, surgeries, medical appointments, and medications, but also assistive medical devices, physical therapy, speech and language therapy, occupational therapy, and other types of rehabilitation therapies.
Pain and suffering. As a parent, you witness your child's physical pain and emotional suffering. It can be difficult to put the extent of your child's pain and suffering into words and even harder still to convert pain and suffering to dollars. However, with the right evidence and arguments it can be done, and your child can recover for these costs.
Out-of-pocket costs. Your child's birth injury may require you to modify your home or vehicle or to stop working so you can care for your child who is unable to attend daycare. Those costs can be significant and should be part of your legal recovery.
Lost earning potential. It's hard to predict what your child's life would have been like without cerebral palsy or what kind of income he would have been able to earn. However, if your child's cerebral palsy will interfere with his ability to get a job, then future lost income may be part of a legal recovery.
The legal team of experienced birth injury lawyers, law firm nurse, and office staff at Gray and White Law are here to help your child and your family pay for a lifetime of cerebral palsy treatment and expenses. We invite you to come to meet us in a free, no-obligation consultation. If we believe you have grounds to file a lawsuit, we will represent you with no up-front costs. Our fee will only be paid if your child recovers damages through a settlement or court verdict.
Call us or start a live chat with us now to schedule your initial consultation.
Related Links: