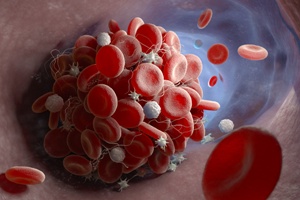 Sepsis may cause complicated medical problems you've never heard of. As if your loved one's sepsis infection was not scary enough, she has now been diagnosed with disseminated intravascular coagulation (DIC) after developing sepsis in her Kentucky nursing home.
What Is Disseminated Intravascular Coagulation?
Serious cases of sepsis or septic shock can cause a condition known as disseminated intravascular coagulation. DIC can simultaneously cause both:
Blood clotting. DIC can cause small blood clots to develop in your bloodstream. These clots can block blood flow to the tissue in different parts of your body or your vital organs.
Increased bleeding. Because blood-clotting proteins are being diverted to these irregular clots, there are not enough proteins left behind to create healthy and necessary clotting in other parts of your body and you may experience uncontrolled bleeding.
DIC symptoms include:
A drop in blood pressure
Blot clots
Bleeding in different parts of the body
Bruises
DIC can occur for a variety of reasons, including sepsis. Your doctor can determine what caused your loved one's DIC and suggest a treatment plan.
DIC Diagnosis and Treatment
Since DIC may cause blood clotting and uncontrolled bleeding at the same time, treatment can be tricky, but may include:
Sepsis treatment. Treatment for sepsis and the underlying infection that caused sepsis is necessary.
Dissolving blood clots and preventing new ones. Coagulant medication, or a blood thinner, can dissolve blood clots and prevent new ones. Blood tests will be necessary to see how well the blood is clotting and whether the medication dose needs to be adjusted.
Blood platelet transfusion. A platelet transfusion may be necessary to help treat blood clots.
If a blood clot has already prevented blood from reaching part of your body, additional treatments may be necessary.
Potential DIC Complications
Disseminated intravascular coagulation can cause further health complications, such as:
Gangrene. If clots prevent blood from getting to a part of your body, the tissue in that part of the body may die. Once gangrene occurs, amputation of a finger, hand, arm, toe, foot, or leg may be necessary.
Organ failure. If blood clots are preventing blood from reaching your vital organs, the affected organs may stop working. For example, your kidneys may not function correctly, and you may require dialysis. Or your lungs may be affected, and you may be unable to breathe without a ventilator. Multiple organs may be affected, including your brain and your heart.
Bleeding in the gastrointestinal tract. This bleeding can be life-threatening.
Stroke. If a blood clot occurs in the brain or you experience a brain bleed, a stroke may occur.
Pulmonary embolism. If a blood clot reaches your lungs, you may experience a potentially fatal pulmonary embolism.
If your DIC was caused by sepsis, and your sepsis was caused by nursing home negligence, the nursing home is also legally responsible for your DIC complications.
Why Contact a Sepsis Lawyer About DIC
According to the Sepsis Alliance, about 35% of sepsis patients will develop disseminated intravascular coagulation. The condition is, therefore, not rare for sepsis patients, but it is dangerous. If your loved one got sepsis because of a nursing home's negligence, she deserves to make a full recovery for all of her sepsis-related injuries, including but not limited to DIC.
Our experienced nursing home sepsis injury lawyers can fight for your loved one's fair recovery. We will gather all of the relevant evidence and handle all of the litigation for you. The time to file a nursing home negligence lawsuit is limited by Kentucky law. Accordingly, we encourage you to contact us today for a free, no-obligation consultation with our nursing home sepsis attorneys. You can reach us by phone or through this website at any time—24/7/365.
Related Links: