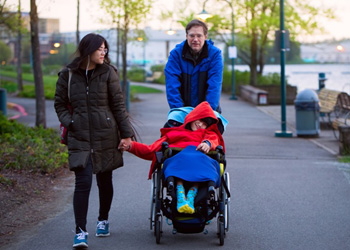 You want to hire a cerebral palsy lawyer who will help your child make a fair recovery. It's an important decision that could impact your child's future, and you have many choices. Before you choose a cerebral palsy lawyer in Kentucky to represent your child with cerebral palsy, we encourage you to think about the things that may be important to your family as you seek justice for your child's birth injury.
Five Things to Know Before You Hire a Cerebral Palsy Lawyer in Kentucky
As you begin to research and interview a cerebral palsy lawyer in Kentucky, you should consider several factors, including:
Experience. Together, Mark Gray and Matt White have more than 50 years of legal experience. We have helped hundreds of personal injury clients make fair recoveries, and we have worked hard to recover more than $1 billion on behalf of our clients.
Medical expertise. Not every Kentucky law firm has a staff nurse. However, Gray and White employs an experienced staff nurse who understands your child's needs, can thoroughly review your child's medical records, work with expert witnesses, and be a valuable resource for your family.
Willingness to go to trial. Our goal is to secure your child's financial future. We will work hard to settle your child's claim with the hospital or insurer, but we won't sacrifice your child's future to do it. We will not hesitate to go to court to get your child a fair and just award.
Personal attention. Gray and White chooses to handle a low volume of cases so that the entire legal team can provide personal attention to each client. You and your family will become part of the Gray and White family. Your calls will be returned promptly, and you will know what's going on with your case every step of the way.
Payment plan. Gray and White is proud to offer a No-Fee Policy to our clients. That means that you do not need to pay us any hourly fees. Instead, we work on a contingency fee basis, and our fee is a percentage of the damages that your child recovers. You don't pay unless we win your child's case.
Schedule a Free Consultation to Get the Information You Need
You can learn a lot from a law firm's website and client reviews. However, when you need a lawyer for something as important as a cerebral palsy lawsuit, it is also essential to meet with an attorney.
Gray and White Law is pleased to offer free, no-obligation legal consultations. During our meeting, we will get to know each other. We will ask questions about your child's potential case, and you can ask questions about our practice, fees, and how we may help your family.
We encourage you to schedule a free consultation as soon as possible to make sure that all of your child's rights are protected. You can reach us any time—24/7/365—by calling, starting a live chat, or completing our online contact form.
How a Kentucky Cerebral Palsy Lawyer Can Help You
Medical negligence has caused your child to suffer a lifelong medical condition, and they deserve to make a fair legal recovery. This may be their only chance to recover compensation for damages, including but not limited to:
Medical expenses such as hospitalizations, medications, doctors' appointments, assistive medical devices, physical therapy, and occupational therapy
Physical pain
Emotional suffering
Lost income
In addition, your child's recovery may include compensation for any other out-of-pocket expenses caused by their birth injury.
Hospitals and insurance companies know that our experienced Kentucky cerebral palsy lawyer means business. We aren't afraid to go to trial if the hospital or insurer refuses to settle your case fairly. Our goal is to get your child a fair and equitable award.
We encourage you to learn more about the legal team at Gray and White Law by contacting us today for your free, no-obligation consultation.
Related Links: