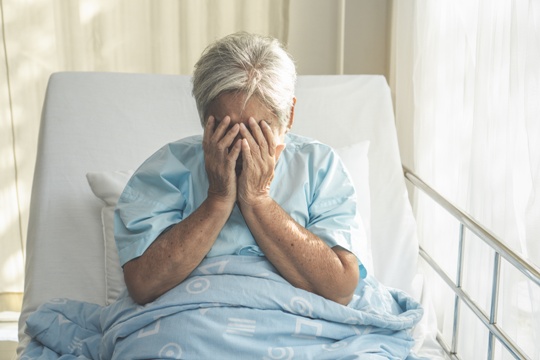 Nursing home residents are vulnerable. They may be victims of sexual abuse in Kentucky nursing homes because their frailty makes them unlikely to fight back, and their medical conditions, such as dementia, make them unlikely to report the abuse. They often can't care for themselves and depend on nursing home staff to keep them safe. When that goes awry, our nursing home injury lawyer will step in and make sure the staff is held responsible for their crimes.
Putting Trust in Kentucky Nursing Homes
You did everything you could to find the right nursing home for your parent, spouse, or other loved one. However, you couldn't get to know every staff member, and you can't be there all the time to watch over them. Instead, you have to trust the nursing home staff to do that for you. While many nursing home workers are kind and responsible, it only takes one staff member, resident, or visitor to sexually abuse your loved one and cause irreparable damage.
Sexual abuse can be one of the least reported and most harmful forms of nursing home abuse. Our Kentucky nursing home injury lawyer believes that every resident deserves to live with dignity and respect. Sexual abuse in Kentucky nursing homes should never happen, and we are here to help hold nursing homes accountable when abuse occurs.
What is Sexual Abuse?
Elder sexual abuse, according to the National Center on Elder Abuse (NCEA), is "non-consensual sexual contact of any kind with an elderly person" or "sexual contact with any person incapable of giving consent." Sexual abuse includes:
Unwanted touching
Sexual assault or battery
Rape
Coerced nudity
Sexually explicit photos
Sharing pornography
Sexual jokes or stories
Exposing oneself or masturbating in front of a nursing home resident
Anyone may be a victim of sexual abuse in Kentucky nursing homes. However, women and people with dementia may be more likely to suffer this type of abuse.
Signs of Sexual Abuse
Nursing home residents may be embarrassed or physically unable to report what happened. According to our experienced Kentucky nursing home injury lawyer, you may recognize some signs of potential sexual abuse, such as:
Changes in your loved one's demeanor or behavior
Torn or stained clothing
Difficulty sitting or walking
Fear of a particular person
Resistance to getting changed or being bathed
Inappropriate or aggressive sexual behavior
Panic attacks
Isolation or withdrawal
Nightmares or sleep disturbances
Suicide attempts
Additionally, you should carefully review your loved one's doctor's notes for reports of
Bruises in the breast or genital areas
Venereal disease or genital infection
Vaginal or anal bleeding
All of these potential signs of nursing home sexual abuse should be investigated properly by a Kentucky nursing home injury lawyer and taken extremely seriously.
Sexual Abuse Injuries
Sexual abuse in Kentucky nursing homes may cause both physical and emotional injuries. Your loved one may suffer:
A sexually transmitted disease
Broken bones
Severe bruises
Depression
Shame
Anxiety
Fear
Often, sexual abuse victims suffer more than one type of injury.
Potential Defendants in Nursing Home Sexual Abuse Cases
The person who abused your loved one may be the defendant in criminal and civil lawsuits. However, the person who committed the abuse may not be the only one responsible for the sexual abuse.
In some cases, the nursing home is also responsible for your loved one's sexual abuse injuries. A nursing home might be a defendant in a nursing home abuse case if the nursing home's negligence allowed for the abuse to occur. For example, a nursing home may be a defendant in a sexual abuse case if the nursing home:
Failed to conduct a background check
Insufficiently staffed the nursing home
Didn't provide enough staff training
Failed to provide adequate staff supervision and support
Knew or should have known about the sexual abuse and did not stop it or report it
An experienced nursing home injury lawyer will consider all possible defendants and help you pursue legal action against all liable parties.
What to Do if Your Loved One Has Been Sexually Abused
Your first priority is to ensure your loved one's physical and emotional safety. Accordingly, you may:
Call 911 or local police if your loved one is in imminent danger
Consult with mental health experts and arrange for counseling, as needed
Move your loved one to a new nursing home
Make sure that all physical injuries are treated
Additionally, you may decide to pursue a nursing home abuse lawsuit. While a lawsuit won't erase the past, you may be able to hold the staff member or nursing home facility liable for your loved one's sexual abuse. A lawsuit may also encourage nursing homes to take additional precautions to prevent future incidents of sexual abuse, and a lawsuit could result in a financial recovery for your loved one. Your loved one's potential damages may include but are not limited to healthcare costs, out-of-pocket expenses, physical pain, and emotional suffering. A Louisville nursing home abuse attorney will evaluate your case to determine if you should proceed with filing a nursing home abuse claim.
Our Nursing Home Injury Lawyer Are On Your Side
Too often, sexual abuse in Kentucky nursing homes goes unnoticed and unreported, and the liable parties are not held accountable for the injuries they caused.
Your loved one deserves compassionate representation. Since this type of case can be extremely complicated and sensitive, you want to have the help of an experienced Kentucky nursing home injury lawyer with whom you can discuss the details of your claim in confidence.
Our legal team has more than 70 years of combined legal experience. Our lawyers, staff nurse, and paralegals treat each client as we would treat our own family. Our nursing home injury lawyer will do everything they can to help your loved one make the fair recovery they deserve.
Kentucky law provides you with a limited time to file a nursing home abuse lawsuit. Accordingly, we encourage you to contact Gray and White Law today for a free, no-obligation consultation. During your initial consultation, we will review your potential claim, explain how a lawsuit works, talk about your potential recovery, and share details about our No-Fee Policy. Call us, start a live chat with us, or complete our online contact form any time—24/7/365—to learn more.
Related Links: