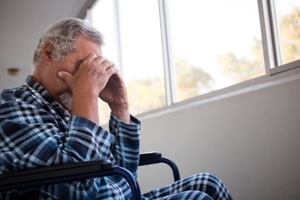 Nursing homes, and the staff that work in nursing homes, are supposed to care for residents. They are legally obligated to report suspected nursing home abuse. Unfortunately, they often cover up abuse and neglect injuries rather than report those injuries to state agencies or the local police.
In 2017, the U.S. Department of Health and Human Services Office of the Inspector General issued an early alert during its review of the abuse and neglect of Medicare beneficiaries in skilled nursing homes. The alert notified the Centers for Medicare and Medicaid Services that more than one quarter of serious nursing home abuse cases were not reported to the police. Five of the 134 incidents identified occurred in Kentucky.
Why Nursing Homes Cover Up Abuse and Neglect Injuries Rather Than Report it
Instead of reporting abuse and neglect, some nursing home administrators and staff members are choosing to cover it up and hope that it remains unreported. They may do this in an attempt to:
Maintain the good reputation of the nursing home
Avoid losing their jobs
Avoid the hassle of a nursing home injury investigation
Regardless of their intentions, covering up or failing to report nursing home abuse or neglect (when you are a mandatory reporter) is illegal.
How Nursing Homes Cover Up Abuse and Neglect Injuries
The cover-up of abuse and neglect injuries may be intentional or unintentional. For the reasons described above staff members and administrators may:
Lie when asked about an injury. They may claim not to know anything about how a nursing home resident got hurt when they do know exactly what happened, for example.
Falsifying nursing home records. They may go back and add things or delete things from the record.
Lazy charting. Staff members may fail to really look at the nursing home resident to determine if there are signs of bedsores, dehydration, malnutrition, or other injuries. Instead of documenting what is actually happening, they may write the same notes every time they go into a room.
Failing to follow up on internal reports. Nursing home administrators may tell staff that they will handle the matter internally rather than involve state agencies.
Clean up an injury before it is reported. While the intention may be to help the nursing home victim, staff members may have cleaned away important evidence before it could be documented with photos or in a medical exam.
Any action or inaction that is designed to conceal the truth is a problem that endangers nursing home residents.
Recognize Symptoms of Nursing Home Abuse and Neglect
Since some nursing homes try to mask the truth, it is important to recognize some of the signs and symptoms of potential nursing home abuse if your loved one lives in a nursing home facility. These signs include:
Physical injuries such as bruises, cuts, wounds, infections, dehydration, malnutrition, and broken bones
Behavioral changes such as agitation, withdrawal, or fear
Environmental changes such as a dirty living area
Any change in your loved one should be discussed with her doctor and the reason for the change should be identified.
Make Your Own Report If You Suspect Abuse and Neglect
The nursing home failed to protect your loved one. It may have failed to make a mandatory report and it may have destroyed valuable evidence. However, you do not have to accept the nursing home's mistakes nor do you have to accept the consequences of those mistakes.
Instead, you can take action by contacting our experienced nursing home injury legal team. Our staff nurse and skilled attorneys can conduct a thorough investigation into what happened. We will find out the truth and we will hold those who were responsible for your loved one's injury and for the cover up accountable.
Has Your Loved One Been Injured In A Nursing Home?
If you believe your loved one is being subjected to nursing home abuse you need to speak with an experienced Kentucky nursing home neglect attorney as soon as possible. Contact us online or call our office directly at 888.450.4456 to schedule a free consultation.
Contact us today for a free and confidential consultation. You can also learn more about your loved one's rights immediately by downloading a free copy of our report, Fighting Back Against Nursing home Abuse: What Families Need to Know to Help Their Loved One.
Related Links: