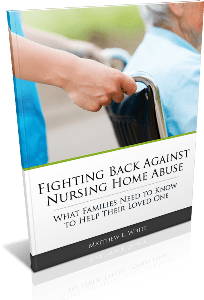 Moving your loved one into a nursing home gives you some relief that their around the clock health needs will be cared for. When you discover that the people you trusted to help your family member live comfortably have not done their job, or have been abusive, you may wonder who to turn to and what you can do to prevent this from happening again.
Unfortunately, nursing home abuse in Kentucky happens more often than many people realize. We wrote, Fighting Back Against Nursing Home Abuse: What Families Need to Know to Help Their Loved One, so that you are not left in question or feeling alone if you've make the frightening discovery that your loved one has been mistreated.
Request Your Free Copy Today to Learn More!
In this report, we've helped answer some common questions, such as:
Common signs and symptoms of nursing home abuse
What you should do if you suspect nursing home abuse
How to know if you need an attorney to help with your case
If you do decide you need a Kentucky nursing home abuse lawyer to help with your case, this report helps you find the right person by answering questions, such as:
What can an attorney do for your case
How to find the right attorney for your case
What to ask to ensure you choose the right person to help with your situation
There can be a lot of frustrations, emotions, and confusion when you discover that your loved one did not receive the care they deserved in their new home. We want to help you get the answers you deserve so that you can put an immediate end to the abuse and get justice against the person that hurt your family. By spending just a few seconds filling out the request form, you can get the answers you need fast.
Get Your Free Copy Today to Learn More!
Get Your Free Book Now
Enter your information below to receive your free book