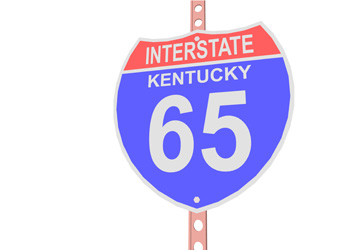 Interstate 65 (I-65) in Kentucky is a dangerous road that is becoming increasingly deadly. Most of the interstate is a two-lane highway with varying grades. The amount of interstate commercial trucking that travels I-65 has grown exponentially in the past decade, and it's getting worse.
Semi-Truck Travel Through the South and Midwest Almost Always Goes Through Kentucky
Kentucky's location puts the state in the cross hairs of almost all semi-truck travel in the south and Midwest. Any truck shipments moving between Chicago area heading to middle to western Tennessee, Alabama, Georgia Mississippi, and the Florida Panhandle pass through Kentucky on I-65.
In addition, Kentucky is home to many warehouse fulfillment centers and the UPS hub. These two factors contribute to an enormous increase in truck freight coming into and out of Louisville along I-65. Anyone who travels on I-65 has experienced the nerve-racking pleasure of having semi-trucks behind you, in front of you and beside you.
Trucks are frequently a dozen deep in both lanes and always outnumber private passenger cars. Many areas of I-65 are under construction to widen the road and add additional lanes. Although this construction is necessary, it also increases the hazards for drivers while the construction is occurring. Kentucky State Police do a great job of policing I-65, but the sheer number of drivers and speeding tractor trailers make their job nearly impossible at times.
Taking on Serious Injury (and Deadly) Truck Accident Cases in Louisville
In the past decade, our personal injury lawyers in Louisville have handled an increasing amount of serious injury truck accidents including fatalities. The increase in large truck traffic is directly responsible. Increased truck traffic, along with truck drivers hitting the road with less and less experience every day to meet the needs of the shipping companies, is a deadly combination.
Settling a Horrific Truck Wreck for Our Kentucky Client
Last year our firm settled a case for a woman who lost her husband in a horrific wreck that occurred in a construction zone. The wreck involved two semi-trucks. Our client was the driver of a tractor (cab) that was bobtailing (driving without a trailer) that was then hit by a flatbed truck carrying an extremely heavy load of industrial generators.
Our client was a Kentucky resident that was traveling southbound on I-65 near Bowling Green, Kentucky. He was on the road less than 5 miles before he had to come to a complete stop due to a construction zone. An asphalt finisher was being moved across the southbound lane and the construction crew stopped southbound traffic on I-65 to allow the machine to be moved safely.
Our client had been stopped for a full minute according to eyewitnesses when the flatbed truck slammed into the back of his cab at approximately 50 miles per hour. The impact was so severe that the truck cab was destroyed in the back and overridden by the flatbed truck's cab which was destroyed by the trailer due to the massive amount of weight it was transporting. Both drivers died because of the severity of the wreck. 
The car in front of our client was also impacted, but the driver was extremely fortunate and suffered only minor cuts and bruises. The flatbed driver was not paying attention and panicked and slammed on his brakes almost 250 feet before impact, but due to his speed and the weight of his cargo and flatbed trailer, was unable to stop or reduce speed enough to avoid a massive impact. Skid marks were jet black from the flatbed. Emergency crews arrived on the scene within minutes of the accident. Both our client and the tractor trailer driver were determined to have died upon impact. A county sheriff had clocked the flatbed as speeding over 10 miles over the posted construction zone reduced speed limit at an I-65-mile marker almost 2 miles northbound of the accident scene, but had not been able to catch-up to the flatbed in time due to heavy congestion on the highway.
How Our Louisville Personal Injury Lawyers Was Able to Help the Family Recover Damages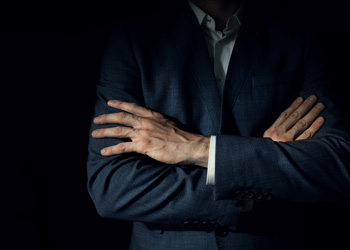 Our firm was contacted within an hour of the wreck. We immediately sent our investigators to the scene of the truck accident to interview witnesses and gather evidence. Our lead investigator instantly had suspicions that the flatbed trailer was overloaded by just looking at its displaced cargo. It was clear that the flatbed driver had acted recklessly by speeding in a construction zone and failing to pay attention to traffic, causing him to slam into the back of our client's truck. The overloaded flatbed trailer, however, was another area of concern that we believed contributed to the severity of the wreck. As a tridem axel, the maximum weight should have been 48,000 lbs. This flatbed, however, had a weight of nearly 54,000 lbs. due to the addition of components being stored within the generators that should have been shipped separately. This extra weight increased the stopping distance of the truck and impaired its handling in general.
Our expert accident witnesses/investigators and accident Reconstructionist determined that the shipping company was negligent in allowing this extra weight to be placed on the road and was a contributing factor to the wreck and severe damages from the impact. Our team also turned our attention to the broker involved in coordinating the logistics of the freight. Both the truck driver and the trucking company had a poor safety record of operating commercial trucking vehicles. The trucking company had multiple out of service citations issued to them by the department of transportation for faulty safety equipment on their tractor trailers. Their SAFER rating was well below the national average and according to our experts should have alerted the broker that they were not a SAFER company to hire. The driver also had a poor safety record. He had multiple speeding tickets over the past five years and had just recently retained his CDL after being hired by the trucking company.
After investigating the alternative trucking companies available to transport the generators at the time the accident occurred, it was abundantly clear that the only reason this trucking company was hired was to save money. After we went to court to get a trial date, all three defendants requested that a mediator attend a settlement conference. We initially refused until two of the parties offered the full money value of their insurance policies. We then proceeded to mediate with the third defendant and successfully settled the case after two mediations for just shy of the third party's insurance policy.
Handling Complex Trucking Cases is Tough. That's Why You Need an Experienced Personal Injury Law Firm on Your Side
Our firm receives several referrals every year from other attorneys and law firms to handle complex trucking cases. Many attorneys that typically handle car accident lawsuits are unfamiliar and often overwhelmed at the complexity of truck accidents. There is a large amount of information that attorneys must be familiar with and understand to effectively handle a truck wreck case.
In addition, truck wreck lawsuits require access to trucking industry experts which are necessary to investigate all potentially liable parties so they can be held accountable. Also, truck wreck companies and their insurers have deep pockets and can and will fight hard to prevent paying injured parties any money. If they sense that the attorney handling the case is inexperienced or doesn't have the resources to fight, they will dig in and try to overwhelm them. That is why we are often hired to help. Truck companies and their insurers know we mean business. We have litigated against most of them and have won. We have the resources and the skills to win complex trucking lawsuits.
Contact Our Personal Injury Lawyers in Louisville Today!
If you or a loved one was involved in a truck wreck in Kentucky and need legal representation that has the experience necessary to win your complex case, contact our firm online or call (502) 210-8942 to set up a free, no-cost case review with one of our Louisville personal injury lawyers today.