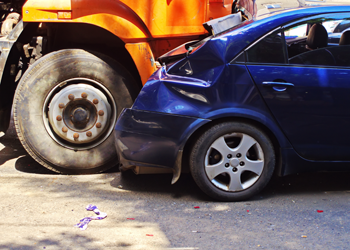 Your life changed when a truck hit your vehicle from behind. As you manage the pain of catastrophic truck accident injuries, you may have questions. Why did the accident happen? Can rear-end truck accidents be prevented? What should you do to protect your rights now? Our Kentucky truck crash lawyers have the answers you deserve.
Common Causes of Rear-End Truck Accidents
Every truck wreck is unique, but some common causes of rear-end crashes include:
Speeding or driving too fast for weather conditions
Aggressive driving
Tailgating or following too closely
Drunk or drugged driving
Drowsy driving
Defective brakes or mechanical problems
An attorney will investigate what happened to you to identify the cause and to pursue a fair recovery.
Automatic Emergency Brakes Could Prevent Rear-End Truck Crashes
Automatic emergency braking (AEB) systems use cameras and radar to warn drivers of impending crashes and automatically apply brakes when a crash is imminent. The technology senses the speed and distance of nearby vehicles and automatically applies the brakes if necessary. 99% of new passenger cars sold in the United States will have AEBs by September 2022. Unfortunately, this voluntary agreement reached between the federal government and automakers does not include large trucks.
Studies indicate that AEB that are part of collision avoidance systems significantly reduce rear-end crashes and the severity of rear-end crashes that still happen. According to an Insurance Institute for Highway Safety Study, AEB and forward-collision warning systems could prevent more than 40% of accidents involving semi-trucks rear-ending other vehicles. Additionally, the technology decreases a truck's speed so significantly that damages and injuries are dramatically reduced if a rear-end collision occurs.
In 2021, the National Highway Traffic Safety Administration (NHTSA) announced its intention to require or set standards for new heavy trucks to have AEB. The proposed rule is expected to be published in April 2022. However, even if the rule requires that new trucks have AEB, it will be many years before all heavy trucks have this potentially life-saving technology. 
Take Action: Contact Our Kentucky Truck Crash Lawyers After a Rear-End Accident
Our experienced Kentucky truck crash lawyers represent people who suffer significant injuries in rear-end truck accidents. We understand how significantly your life has changed, and we believe that NHTSA should implement AEB requirements as quickly as possible to prevent other people from suffering catastrophic injuries.
While future AEB regulations won't change what happened to you, we are here to help you now.
The first step is identifying why the crash happened. Few Kentucky law firms have the resources that we do to conduct professional accident reconstructions. The potential defendants in your truck accident case may include the truck driver, trucking company, maintenance company, or truck manufacturer. We will find out who was responsible for your accident injuries.
Once the correct defendants are identified, we will gather evidence and strongly advocate for your full and fair recovery of past and future damages, including:
Medical expenses such as ambulance rides, hospitalizations, surgeries, medications, doctors' visits, assistive medical devices, rehabilitation therapies, and other healthcare needs
Lost income for wages, bonuses, benefits, raises, and income from self-employment that you can't earn because of your injuries
Out-of-pocket costs for funeral expenses if your loved one died in the crash, property damage, and other costs associated with the crash
Physical pain from the injuries you suffered
Emotional suffering from your injuries and how those injuries impacted your life
Gray and White Law only represents seriously injured accident victims. Our team intentionally takes a low volume of cases so that our entire team, including our experienced truck crash lawyers, staff nurse, and paralegals, can work on your case and provide you with the personal attention you deserve. We will fight for you and your family, just as we would fight for our own family.
Contact us today to schedule your free, no-obligation consultation. Our Kentucky truck crash lawyers would be happy to meet with you to discuss your potential case, your possible recovery, and our No-Fee Policy, which means you only pay us if your case is successful.
Related Links: