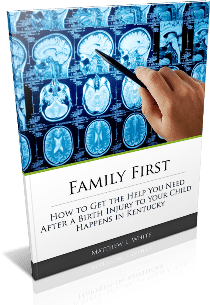 Was your baby diagnosed with Cerebral Palsy or seriously injured during delivery? We know how traumatic it can be to learn of your child's birth injury and that you are suddenly filled with questions, worry, and fear.
We have answers for you and have written this guide especially for Kentucky parents to explain your options and provide the information you need to give your child the necessary treatment and help them live the best life possible.
Request your free copy of Family First: How to Get the Help You Need After a Birth Injury to Your Child Happens in Kentucky by filling out the form on this page. You will immediately get a downloadable version sent to your email so you can begin learning more about the following:
Types of birth injuries and common causes in Kentucky hospitals
Critical first steps your family must take after your baby has been diagnosed with Cerebral Palsy, brain damage, or another serious birth injury
How filing a claim against the hospital and the people that caused your child harm is crucial to protecting your child's future
Tips to help you find the right lawyer for your Kentucky birth injury claim
Which questions to ask before hiring a lawyer to represent your case
Complete the form on this page to get your free Kentucky birth injury guide today.
After you have read our guide, if you still have questions about the best way to help your child, please contact our law firm for more information or to begin pursuing a birth injury claim by calling 888-450-4456.
How Gray & White Law Can Help You
If your newborn suffered a preventable injury in a Kentucky hospital, you deserve compensation. The legal team at Gray & White Law has the experience and resources required to help you get the compensation you need to pay for the best medical care and give your baby a brighter future.
Our Louisville law firm focuses on birth injury cases involving medical malpractice and we have successfully sued Louisville hospitals for birth injuries resulting from delayed delivery, delayed c-section, and other acts of negligence. If a doctor or nurse's negligence during the labor and delivery process caused your baby to be born with a life-changing birth injury including Cerebral Palsy, brain damage, spastic quad, seizures, or other injury caused by delivery complications, we can help.
We will thoroughly investigate what happened to your child, we will answer the questions that the medical professionals are hesitant to share with you, and we will always remember that your child's future depends on the outcome of this case.
Call 888-450-4456 to speak with a Kentucky birth injury lawyer at Gray & White Law.
Get Your Free Book Now
Enter your information below to receive your free book