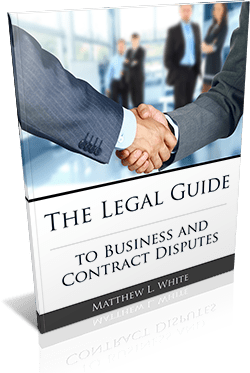 You've come too far to let a business conflict ruin what you've built. Fighting back doesn't have to take your attention away from the day-to-day operations of your business, and it doesn't have to be cost-prohibitive. There is an alternative.
For over a decade, we have represented individuals and small businesses in complex business litigation, as well as, small business two-party disputes. In this short guide, you will learn more about your specific situation, what makes us different than the typical business transaction law firm, and how resolving your business dispute can be affordable.
Is a Business Dispute Costing You Time and Money?
When a dispute could affect your business reputation, your profitability, or even your ability to stay in business, it is important that you take action. Start by downloading our legal guide that covers the most common types of business disputes we handle, including:
Contract disputes
Breach of contract
Breach of fiduciary duty
Accounting malpractice
Business separation and dissolution, including fair buyouts
Construction project disputes
Insurance disputes, including problems when an insurer refuses to pay your business for losses in a timely manner
Partnership disputes
Failure to pay for goods or services delivered
Business torts, including tortious interference with contractual relationships
Disputes between partners or shareholders
Employment contracts
Trade secret claims
Unfair interference with business practices
Get Your Free Book Now
Enter your information below to receive your free book