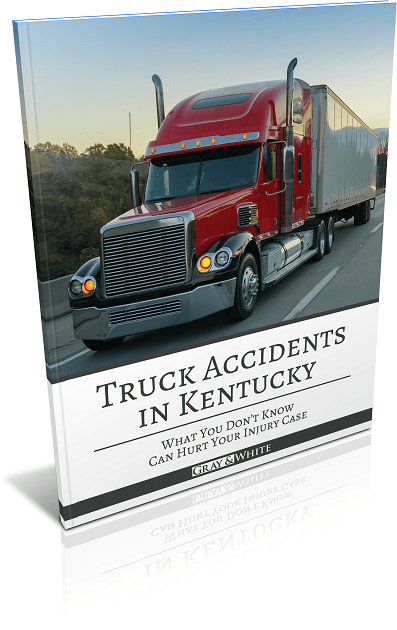 A truck accident can disrupt your life in the blink of an eye, leaving you seriously injured, unable to work, and agonizing over how you'll cope with your new circumstances—not to mention the mounting medical and household debt.
If you were hurt in a truck crash that was caused by a truck driver, trucking company, or other party's negligence, you may be entitled to compensation for damages. However, the process for seeking a fair financial recovery is complex and challenging, pitting you against profit-focused insurance adjusters and the trucking company's team of savvy corporate attorneys. This puts you at a significant disadvantage.
Level the Playing Field: Request Your Free Copy of Our Kentucky Truck Accident Guide Now!
Fortunately, the award-winning legal team with Gray & White Law can help. Our eBook, Truck Accidents in Kentucky: What You Don't Know Can Hurt Your Injury Case, provides essential information on truck crash cases and the personal injury litigation process. Learn about:
​Differences between car accident and truck crash cases
Types of truck crash cases we handle
Common causes of Kentucky truck accidents
Serious injuries associated with truck crashes
Potentially available damages
Kentucky wrongful death cases
Tricks insurers use to pay you less
Case-damaging mistakes
And more.
Our book can help you understand how an experienced injury attorney can protect your rights and maximize the value of your truck accident claim. You'll also learn about our firm's contingency fee agreements, and why they mean you can afford an attorney.
Truck Accidents in Kentucky: What You Don't Know Can Hurt Your Injury Case is available for free instant download. Request your digital copy of our comprehensive guide to Kentucky truck crashes today.
Consult an Experienced Attorney About Your Kentucky Truck Accident Case
After a devastating truck crash, there's far too much at stake for victims to go it alone and, fortunately, you don't have to. Gray & White offers the high-quality legal representation you need and deserve. Contact us today to schedule an appointment for a free, initial consultation to discuss your case with a skilled member of our personal injury legal team.
Get Your Free Book Now
Enter your information below to receive your free book