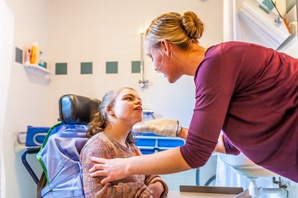 Your goal hasn't changed since the day you found out you were expecting a baby. You want to do everything you can to provide your child with a good life and to set your child up for a productive future. That was your goal before you knew your child had cerebral palsy, and that remains your goal now.
Four Ways to Achieve Your Goal
Parenting a child with cerebral palsy is often less about big decisions and more about the smaller choices that need to be made every single day. Together, these smaller decisions can help improve your child's quality of life. For example, you can help your child by:
Staying on top of treatments. This includes remembering your child's regular medication, rehabilitation therapies, and doctors' appointments, and it also includes keeping up to date on any new treatments as they become available.
Staying active. You can help your child be physically active, to the extent possible, to help strengthen his muscles and prevent future complications. Additionally, you can focus on other things he enjoys to help him gain skills in areas of interest.
Building a community. Your community may include other parents of children with cerebral palsy who can provide you with important information and support. Your community may also include your friends, neighbors, and relatives.
Getting help. You don't have to know all the answers. You can work with a team of experts, including doctors, rehabilitation therapists, nutritionists, lawyers, and others to get the advice and help you need to help your child.
Parenting can be scary and overwhelming, but if you stay focused on the goal of doing your best for your child, you will help him maintain the best possible quality of life.
For additional tips about helping a child with cerebral palsy, please browse our library of cerebral palsy articles, our cerebral palsy blog, and the answers to questions frequently asked of our cerebral palsy lawyers.