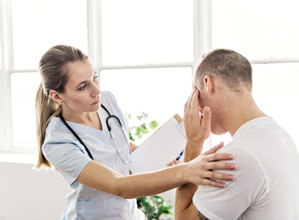 Traumatic Brain Injury (TBI), also known as a head injury, is one of the main causes of death and permanent disability globally. 
Trauma to the head resulting from personal injuries, such as auto accidents or slip-and-falls, can happen instantaneously. Victims of head trauma often require daily medical care and expenses for the rest of their lives. 
Our team has handled numerous cases for clients that sustained a TBI as a result of a car accident. Often these were low-impact car wrecks that resulted in a brain injury. Therefore, it is very important that if you sustain any type of impact involving your head, you seek medical care to be fully evaluated. Many times the results of a mild traumatic brain injury are subtle. 
The attorneys at Gray and White will examine personal injury claims in which another person's actions have caused a head injury resulting in permanent disability in an individual or a fatality. You can schedule a free consultation and claim evaluation here. 
Head Injury Causes and Symptoms 
Approximately 1.4 million people each year suffer traumatic brain injuries. Brain trauma often leads to permanent and severe disability, requiring considerable expenses to provide for daily care. Permanent brain damage can result from an abrupt acceleration of the skull or direct impact to the head. While there are multiple causes of head injuries, the leading causes are falls (28%); truck, auto, or motorcycle accidents (20%); being hit by an object (19%); violence (11%); and bicycle accidents (3%). 
Traumatic head injury symptoms will differ based on the severity of the brain trauma. Possible symptoms include: 
Slurred speech 
Ringing in the ears 
Foul taste in the mouth 
Loss of motor coordination 
Headache 
Nausea or vomiting 
Convulsions
Shift in sleep patterns 
Trouble balancing, dizziness, or lightheadedness 
Contact Our Experienced Traumatic Brain Injury Attorneys Today
If you or a loved one has suffered a traumatic head injury due to the negligent or reckless actions of another person or company, it is crucial to have qualified traumatic brain injury attorneys review your case. 
Our experienced brain injury attorneys at Gray and White will make certain that the families of head injury victims receive the compensation they deserve and need to pay for medical treatment and daily care. Contact our attorneys for a free consultation and claim evaluation.