Many Kentuckians use a continuous positive airway pressure therapy machine commonly known as a CPAP machine, or simply CPAP on a nightly basis. Most people who use a CPAP machine have obstructive sleep apnea (OSA) and need the device to help keep a normal breathing rhythm throughout the night. Recently, Philips Respironics announced a recall of their device due to two common issues. But before we dive into the recall and how our Kentucky dangerous devices attorney can help, let's get a better understanding of what a CPAP and Sleep Apnea are.
How Does a CPAP Work?
The CPAP works by increasing the air pressure in your throat so your airway doesn't collapse when you breathe in. Although the machines are not comfortable to use (requiring the user to wear a face mask while sleeping and the CPAP machine itself can be create a loud noise), untreated sleep apnea can be a dangerous, and sometimes deadly.
The majority of side effects of untreated sleep apnea include snoring, poor sleep quality, and daytime sleepiness. In most cases sleep apnea can lead to weight gain due to poor sleep quality. Sleep apnea can also cause your increase risk of heart attack (myocardial infarction) and strokes (cerebral vascular accidents) to increase 600%.
This has led to a major effort by doctors and hospitals to promote the use of CPAP machines in recent years. Fortunately, CPAP machines have advanced in recent years to include features such as highly adjustable mask straps to allow a better fit and "ramp" features which allow the forced air to be slowly adjusted over time so the CPAP users can slowly adjust to the forced air. Newer models of CPAP's are also significantly quiter than the older models. Therefore, it is important to ask your doctor (usually a pulmonologist, otolaryngologist (ENT), neurologist or family physician/internist) if your insurance will cover the most recent versions of the machines.
What is Sleep Apnea?
The American Academy of Sleep Medicine defines obstructive sleep apnea as a sleep related breathing disorder that involves a decrease or complete halt in airflow despite ongoing effort to breathe. A definitive diagnosis can only be made with a sleep study (polysomnography). This study is not painful but does require the patient to be hooked-up to devices that monitor brain activity (EEG), eye and chin movements (EOG), heart rate and rhythm (EKG), chest movement (to monitor respirations), leg movement, and oxygen and carbon dioxide levels in the blood.
Sleep apnea can also be presumed in patients with certain neck circumference sizes.
If sleep apnea is diagnosed, your doctor will prescribe a CPAP machine. These machines are widely available for purchase online and through various medical equipment supply companies in Kentucky such as Gould's Discount Medical, Cooley Medical, Rotech, American Home patient, Bluegrass Oxygen, Walmart, All Care, King Drug and Home Care, Deaconess Home Medical Equioment, Cpap Central Kentucky, Lincare and many others.
Philips Respironics Recalls CPAP Machines in Kentucky
On June 14, 2021, Philips Respironics announced a voluntary recall notice due to two issues concerning the polyester-based polyurethane (PE-PUR) sound abatement foam used in their CPAP and BiPAP machines.
The issue is the sound abatement foam may degrade into particles which can enter the CPAP machines air pathway and then be inhaled or ingested by the user. Also, the sound abatement foam may off-gas certain chemicals which may be inhaled by the user. Certain cleaning products and environmental conditions can exacerbate these two problems.
The following devices manufactured before April 26, 2021 are affected: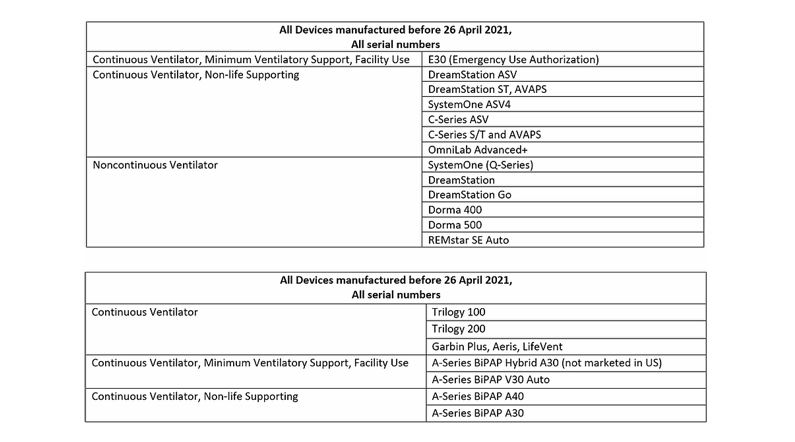 The products below are not affected at this time due to differences in the sound abatement foam used.
Products not affected by this recall notification (U.S. only) / field safety notice (International Markets) include:
Trilogy Evo
Trilogy Evo OBM
Trilogy EV300
Trilogy 202
A-Series Pro and EFL
M-Series
DreamStation 2
Omnilab (original based on Harmony 2)
Dorma 100, Dorma 200, & REMStar SE
V60 Ventilator
V60 Plus Ventilator
V680 Ventilator
All oxygen concentrators, respiratory drug delivery products, airway clearance products.
Injuries found in Users of CPAP in Kentucky
CPAP users that are exposed to the degraded abatement foam might suffer from the following injuries:
Cancer
Kidney damage
Liver damage
Skin irritation
Eye irritation
Sinus infection
Headache
Asthma
Imflammatory response in exposed tissue
CPAP users exposed to the chemical emissions may suffer from the following injuries:
Cancer
Headache
Dizziness
Eye irritation
Nose irritation
Sinus infection
Respiratory tract irritation
Skin irritation
Nausea/vomiting
Inflammatory response in exposed tissue
Contact Our Dangerous Device Attorney in Kentucky Right Now!
Our dangerous device attorney in Kentucky are uniquely qualified to handle these types of cases. Over the past two decades, we have successfully handled thousands of defective medical device lawsuits against major corporations. In addition, we have recovered millions of dollars for our clients by successfully litigated cases involving pulmonary damage due to defective medical devices and practices.
If you've been affected by the recent CPAP recall in Kentucky and would like to schedule a free, no-cost case evaluation with our Kentucky dangerous device attorney, contact us online or give us a call at (502) 210-8942 now!