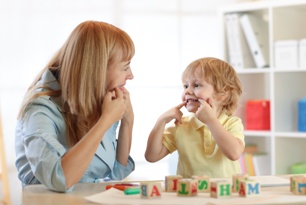 As a parent of a child with cerebral palsy, you need to consider many different types of rehabilitation therapies for your child. One of the therapies that may be suggested to you by your child's doctor, a friend, or your own research is speech and language therapy.
Speech and Language Therapy Benefits
Speech and language therapy, conducted by a qualified speech and language pathologist, might help your child strengthen muscles in the face, throat, and neck which can help him with things like:
Breathing
Talking (including fluency, pronunciation, vocabulary development, and participating in conversations)
Chewing and swallowing safely
For these reasons, speech and language therapy may have a significant impact on your child's confidence, independence, and quality of life.
How to Pay for Speech and Language Therapy
If your child qualifies for Kentucky's First Steps program, speech and language services may be part of your child's Individualized Family Service Plan (IFSP) until your child is three years old and exits the program. After that, speech and language services may be provided as part of special education services to address any issues that interfere with your child's ability to progress at school.
Many children also benefit from additional private speech and language services to address other needs or to supplement what the school provides. Your child's insurance may cover some private speech and language therapy needs. However, you should not have to limit your child's treatments because of insurance coverage or your ability to pay. Instead, past and future speech and language therapy needs should be part of your child's cerebral palsy lawsuit recovery.
Our experienced cerebral palsy lawyers will fight hard to make sure that your child gets a full and fair recovery that includes compensation for future speech and language therapy needs. Call us or contact us via this website to schedule a free, no-obligation consultation with us today and to make sure that all of your child's current and future needs are met.