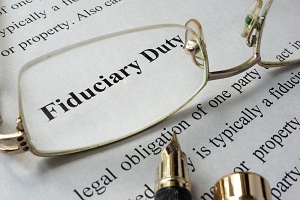 You hire certain professionals to help you with things that you they have expertise in and that you could not do as well yourself. You trust these professionals to act in your best interest or in the best interest of your business.
In fact because of their expertise, these professionals have a legal obligation—known as a fiduciary duty—to act in your best interest. When that fiduciary duty is breached, you could suffer great harm and you have the right to protect your recovery in a court of law.
When Is There a Fiduciary Duty?
Before you can determine whether or not a fiduciary duty has been breached, you need to determine whether such a duty existed. A fiduciary duty can be established when:
There is a relationship between the professional and the client that involves a special trust, confidence, or reliance on the professional to use his expertise or discretion when acting in the client's interests.
The professional knowingly accepted that trust or confidence when agreeing to act on behalf of the client.
The client is entitled to receive the best efforts of the fiduciary and a client should be confident that the fiduciary is acting with skill, due care, and diligence.
Fiduciary relationships are unlike other relationships. In common, non-fiduciary relationships, people must exercise reasonable care with relation to one another. In fiduciary relationships the standard is not reasonable care, but instead a higher standard of honesty, skill, diligence, and full disclosure.
When the Fiduciary Duty May Be Breached
It is impossible to list all of the possible ways in which a fiduciary duty may be breached. However, below are some examples of how such a breach may occur:
The fiduciary acts in any way that is adverse to or contrary to the client's interests.
The fiduciary acts for his own benefit.
The fiduciary misappropriates funds.
The fiduciary misuses confidential information.
The fiduciary gives inappropriate advice.
A breach may occur anytime someone who is a fiduciary fails to exercise his special duty of care to the person or business for which he is the fiduciary. A breach may cost you or your business a significant or life-changing amount of money.
Examples of Fiduciaries
There are many different contexts in which a fiduciary duty may arise. Trustees, estate representatives, and business partners may all have fiduciary duties, for example. However, for purposes of this article we are focusing on professionals who may have fiduciary duties. Those professionals may include:
Stockbrokers.
Investment advisors.
Attorneys.
Doctors.
Real estate brokers.
What to Do If You've Been Hurt
As with other business litigation cases, you must be able to prove your case if you have been hurt and you are seeking damages. As the plaintiff, you will need to establish that:
A fiduciary relationship existed.
The fiduciary breached the fiduciary duty.
The breach of the fiduciary duty caused you harm.
You were hurt and have the right to pursue damages.
You do not, however, have to establish any of this on your own. You have the right to work with an experienced lawyer who will fight hard for your fair recovery and who will make sure that all of your rights are protected.
Kentucky law limits the time that you have to file most cases of professional malpractice to just one year. If you fail to file your complaint in court before this statute of limitations expires then you may be barred from a legal recovery.
Accordingly, it is important to take action quickly. Find out about your rights and make a plan to protect your future even after the professional you trusted has hurt you. To learn more about your rights and about protecting your recovery, please contact us at any time via this website or by phone at 888-450-4456. We are available for you 24 hours a day, seven days a week.
RELATED LINKS