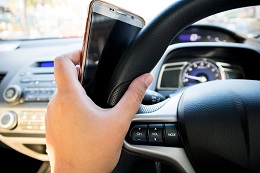 The federal government defines distracted driving as anything that that takes a driver's…
Eyes off the road.
Hands off the steering wheel.
Mind off driving safely.
In 2014, 3,179 people died and 431,000 people were hurt in distracted driving accidents. This is a significant problem that has ended or changed the lives of hundreds of thousands of people, but these types of accidents are not inevitable. By identifying the common types of distracted driving accidents, drivers can take steps to avoid serious accidents and victims can know when to seek the help of an experienced car accident lawyer.
Common Types of Distracted Driving Accidents
While engaging in any non-driving activity while driving may cause a distraction, common distractions include:
Using a cell phone to make calls, text, browse the Internet, use social media, or perform any other task.
Following a GPS device.
Listening, talking to, or arguing with your passengers.
Looking or reaching for something.
Eating or drinking.
Personal grooming, such as applying make-up, brushing hair, or shaving.
Reading, including maps.
Adjusting a radio, CD player, or MP3 player.
Having an animal in the car.
Smoking cigarettes.
Looking at an attractive woman or man on the side of the road or in another vehicle.
Caring for young children in the back seat.
Distracted driving is not a just a problem for one type of driver. Teens and senior citizens, and men and women may all be distracted behind the wheel and cause catastrophic crashes.
What to Do If You Are Hurt in a Distracted Driving Crash
While you and your family may do everything possible to avoid distractions, there's no guarantee that others will do the same. At Gray and White, we are proud to advise car accident victims on their legal rights at no cost to them. Call us today at 888-450-4456 for more information about your potential recovery after a distracted driving accident or to schedule a free consultation. We are available for you 24 hours a day, seven days a week.
RELATED LINKS