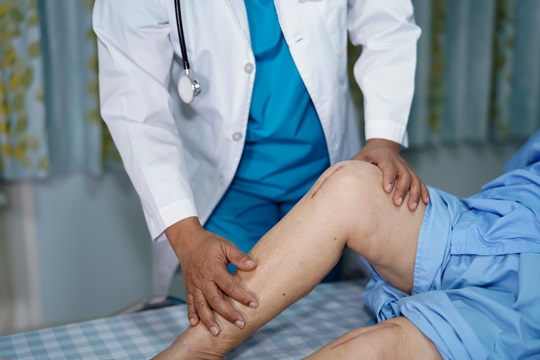 On February 7, 2022, medical device manufacturer Exactech notified surgeons that improperly packaged knee and ankle inserts were used in nearly 150,000 surgeries. These polyethylene plastic devices are designed to fit between metal parts in ankle and knee replacements to cushion joints.
A patient should get many years of use out of one of these inserts, but due to improper packaging, many are wearing out early. This led Exactech to issue an urgent recall.
What Devices Did Exactech Recall?
Just under 150,000 devices were recalled in 2022. All of the recalled parts were produced after 2004. As of April 7, 2022, the list includes:
OPTETRAK. 60,926 devices have been implanted in knee replacement surgeries.
OPTETRAK Logic. 60,518 devices have been implanted in knee replacement surgeries.
TRULIANT. 24,727 devices have been implanted in knee replacement surgeries.
VANTAGE. 1,561 devices have been implanted in ankle replacement surgeries.
Why Did the Exactech Recall Happen?
In a February 2022 letter headed "Urgent Medical Device Correction," Exactech noted that packaging problems led to some of their inserts being exposed to oxygen, which in turn causes the devices to degrade and fail early.
Usually, these types of devices are packaged with multiple layers of protection against oxygen exposure. Exactech's ankle and knee implants were packaged in vacuum-sealed bags, but they did not have a second barrier of protection, something that should have been in place.
Exposure to oxygen causes a process called oxidation, which the company says "severely degrades" the quality of the implant and can cause "accelerated wear, debris production, bone loss, component fatigue, and component cracking or fracture, all leading to corrective revision surgery."
[Related: Exactech Recall Information]
What Problems Could Defective Implants From Exactech Cause?
The FDA deemed this problem a Class 2 recall, meaning the issue may cause "temporary or medically reversible adverse health consequences." People who have a recalled implant may encounter issues such as:
Bone loss
Accelerated wear and tear of their device
Production of debris
Cracking, fracture, or fatigue of the component
Any one of these issues will likely require surgery to correct. Prior to this recall, Exactech already faced several lawsuits from patients who claimed their implant failed before it should have, causing them pain and trouble walking. Those patients required revision surgery, and lawsuits claim Exactech failed to warn consumers about longevity problems.
What Should You Do If You Have a Recalled Exactech Implant?
Both doctors and patients place tremendous trust in the manufacturers of medical devices to make a safe product. And if a medical device isn't safe, it's the patients who suffer most. 
If you underwent a knee or ankle replacement after 2004, it's important to know whether you have an Exactech implant. You can contact your surgeon to find out the exact parts that were used in your implant surgery. Then, you can confirm whether your Exactech device was part of the company's safety recall. If so, your next step should be to reach out to a liability lawyer to hold Exactech accountable for their actions and to learn what your rights may be.
Contact an Experienced Medical Device Injury Lawyer to Discuss Your Next Steps
At Gray & White Law, our experienced Louisville attorneys are ready to advocate for you and help you fight for the fair recovery you deserve if a defective medical device has left you injured. Our lawyers, together with our staff nurse, will thoroughly investigate what happened to you and advise you through all of the necessary legal steps to pursue a financial recovery.
A successful lawsuit may allow you to recover compensation for your past and future medical costs, lost income, physical pain, emotional suffering, and out-of-pocket expenses related to the defective Exactech knee or ankle replacement that caused your injury.
If you have an Exactech knee or ankle replacement insert that was implanted in 2004 or later, it may not have been packaged properly, and it may break down prematurely. Call our experienced Kentucky injury attorneys today at 502-210-8942 or use our convenient online contact form to schedule a free consultation.
Related Links: