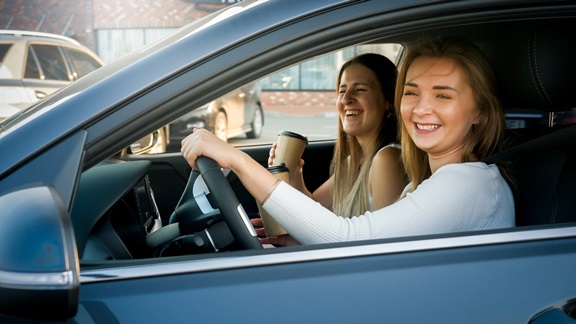 There's no denying the numbers—teenage drivers are dangerous behind the wheel. Drivers under the age of 20 are three times more likely to be involved in an accident than drivers 20 and older. Hundreds of people are injured in car accidents every day, and unfortunately, many of those accidents are the result of inexperienced teen drivers exceeding the speed limit.
Leading Cause of Kentucky Teen Crashes is Often Speeding
Nearly half of all drivers report going at least 15 miles per hour over the speed limit in the past month. Excuses vary, but no matter the reason, this behavior is dangerous. And it's even more dangerous if a young driver is behind the wheel.
Why Teenage Speeding Contributes to Accidents
Inexperience. Because they simply don't have a lot of experience driving, many teenagers cannot properly judge the speed they're traveling. And if they're not actively watching their speedometer, they can quickly find themselves driving too fast. Cars are more difficult to control at higher speeds, and without years of experience behind the wheel, a teen driver can quickly lose control and cause a crash.
Distraction. Distracted driving is skyrocketing among all drivers, but it seems to be especially prevalent in young drivers. If a driver is using their phone or dialing in a new song on the radio while they are speeding, the results can be disastrous.
Multiple passengers. Teens often drive around with two or more passengers, which not only creates more dangerous distractions but also means more people are likely to be injured—or worse—if the teen crashes.
A recent study by the Governors Highway Safety Administration showed that for drivers 16 to 19 years old, speeding is proven to be a factor in fatal accidents significantly more than in any other age group. Driving at an unsafe speed caused 43% of motor vehicle fatalities involving teenagers, compared to 30% of drivers in all other age groups.
That same study showed that teenage drivers "pose the highest risk of death to their passengers, occupants of other passenger vehicles and non-vehicle occupants such as pedestrians and cyclists." In short, teenage drivers pose a risk to others. And if they're speeding, that danger is magnified.
What to Do After You Are Injured in an Accident With a Teen Driver
If you are involved in a crash with a teen driver—or your child is injured as a passenger—it's likely, given the statistics, that the teen is at fault for the crash. It's important to treat this crash like you would any other, regardless of the driver's age.
Steps to Take Immediately After a Crash Involving a Teenage Driver
Call the police
Take photos of the scene, including the vehicles, damage, and signs
Exchange information with the other driver, including their name, phone number, license plate, and insurance information
Let your insurance company know you've been in an accident, but don't give them any details about what happened
Get a copy of the accident report
Seek medical attention
In the days after the accident, you'll probably be fielding calls from your insurance company and the insurance company for the teen driver. These companies are notorious for trying to avoid paying out for car accidents. They can easily take a casual conversation on the phone about the accident and use your words to place blame where it shouldn't be.
You shouldn't give the insurance company details about what happened, and you certainly shouldn't let them talk you out of holding the teenage driver accountable. Instead, you want to hire a lawyer to handle these conversations.
How a Kentucky Car Accident Attorney Can Help
If you or your teen was involved in a car accident caused by a teen driver, don't try to handle the situation alone. Trust a legal professional who has experience in this field and who has handled cases just like yours before. Not only will you get solid representation from Gray & White, but you'll also get someone who will fight for justice.
Call our office at 888-450-4456 today, or use our online contact form to have one of our attorneys review your case. In your no-obligation consultation, we'll discuss what options are available and find the best plan to move forward.
Related Links: