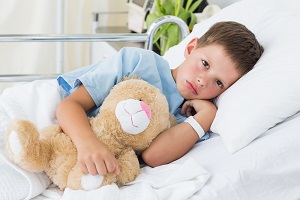 The number of reported child abuse and neglect cases continues to rise in Kentucky. From 2012 to 2016, the number of children who were hurt or killed in abuse and neglect cases rose by 55 percent, and today Kentucky is the state with the second-highest rate of child abuse in the country.
Not all of these child abuse and neglect cases occur in daycare settings, but some do. If you are the parent of a child who was hurt in a Kentucky daycare, then you may be wondering what you can do next. Reporting it to the Commonwealth may not be sufficient to get your child the fair and just recovery that your child deserves. Instead, you may need to file a daycare injury lawsuit in court so that you can protect your child's recovery.
Here's How It Works
Filing a lawsuit may seem like an overwhelming task, but it may the most important way to keep your child safe now. Here's what you can expect if you decide to file a daycare injury case:
Your case will begin when you file a formal complaint in court. The complaint will outline your legal basis for filing a case. In other words, you will explain how the defendant violated the law and caused your child's injuries. The complaint will also explain the damages that you are seeking from the defendant. The complaint must be filed with the required copies, other legal documents required by the court, and appropriate fees.
 
The defendant will respond with an answer to your complaint. The answer will respond to the allegations in the complaint and may also contain defenses.
 
Both sides will engage in discovery. Discovery is an effort to find out what really happened to your child by gathering evidence. This may include depositions, interrogatories, and requests for production of documents, for example.
 
Both sides may file motions in an attempt to resolve the case prior to trial or to manage admissible evidence. Motions to dismiss, motions for summary judgment, and motions to allow or to exclude evidence may be filed, for example.
 
Both sides may engage in settlement negotiations while a lawsuit is pending. A lawsuit does not have to stop settlement negotiations from continuing. You may continue to engage in settlement negotiations and if an appropriate settlement can be reached then your case may be resolved without going to trial.
 
A trial may occur if a settlement is not reached or the case is not decided on a party's motion to the court. The trial may be a jury trial or a bench trial. The decision of the court is binding unless it is appealed and then overturned by a higher court.
It is important to remember that you don't have to do any of this alone.
Instead, an Experienced Daycare Injury Lawyer Can Help You Protect Your Child
As you continue to take care of your child's physical and emotional needs, you can get help taking care of your child's legal and financial needs. Our experienced attorneys want to help you through every stage of litigation so that we can get your child the full and fair recovery that he deserves.
That recovery may include compensation for past, current, and future:
Medical expenses.
Physical pain.
Emotional suffering.
Out-of-pocket costs.
Lost income.
Other losses that your child suffered because of daycare abuse or neglect injuries.
It won't cost you anything out of pocket to hire an attorney to fight for your child. Our lawyers are paid on a contingency fee basis—meaning that we are paid an agreed-upon percentage of the settlement or court verdict rather than an hourly fee. If we don't win your child's case, then we don't get paid.
Additionally, we will provide you with a free, confidential, no-obligation consultation so that you can make an informed decision about how best to protect your child's rights now. To learn more or to schedule your free consultation, please contact us any time—24 hours a day, seven days a week, any day of the year—via this website or by phone.
 
RELATED LINKS