When it comes to traumatic brain injuries, the Centers for Disease Control and Prevention (CDC) reports that adults age 65 and older have the highest rates of hospitalization and death. Falls are a leading cause of these injuries, which makes them a serious concern for people residing in nursing home and assisted living facilities.
Preventing Falls Is the Best Way to Avoid Head Injuries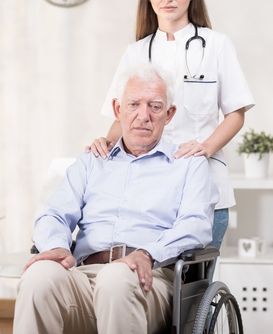 Preventing falls is one of the easiest and most successful ways to prevent concussions and other traumatic brain injuries (TBI). When nursing home staff exercise reasonable care, falls and resulting head injuries can be prevented. Specifically nursing home staff can create a safe facility by:
Removing tripping hazards, such as rugs, tables, and cords, from commonly used paths in residents' rooms.
Keeping the hallways and walkways free of clutter.
Installing handrails and non-slip mats in all bathtubs and showers.
Installing grab bars next to all toilets and on both sides of stairways.
Using chairs with padded armrests.
Installing proper lighting throughout the senior's home or apartment.
Additionally, nursing home staff can:
Make sure that residents are regularly attended to so that they do not attempt to get out of bed without assistance if that is beyond their physical abilities.
Be aware of medications that residents are taking. Some medications may make residents light-headed, confused, or off-balance.
Remain calm in stressful situations, and never physically assault a resident.
When nursing home staff fail to exercise reasonable care and instead are neglectful or abusive, serious falls and head injuries can result.
Signs of Concussions and Other Head Injuries
It is important to recognize symptoms of a TBI so that you can get your loved one prompt medical care. Some of the signs often seen in nursing home abuse cases that may indicate an older adult has suffered a concussion include: 
Dizziness.
Vertigo.
Headache.
Neck pain.
Nausea.
Vomiting.
Confusion.
Slowed reaction time.
Difficulty concentrating.
Loss of hearing.
Double or blurred vision.
Changes in tasting or smelling abilities.
Irritability or changes in mood.
Loss of consciousness—however brief.
Fatigue.
Anxiety.
Personality changes.
Memory problems.
Changes in speech, fine motor, gross motor, or cognitive skills.
These changes may be a sign that a resident has suffered a TBI. However, only a qualified physician can make that determination.
Consequences of a Traumatic Brain Injury Can Be Serious
Concussions and other head injuries are significant not only because of the short-term pain they cause, but also because of some of the long-term consequences of such injuries. Some of the complications that the elderly can suffer after a concussion include: 
Post-Concussive Syndrome.
Epilepsy.
Cognitive Impairment.
Complications in the elderly can lead to a long recovery period, or they may even result in permanent disabilities such as paralysis or coma. Death can also result from these injuries.
How to Help Your Loved One Recover From a Head Injury
If your loved one has fallen in a nursing home and suffered a concussion or a TBI, you likely want to know how to help him recover. You can encourage him to:
Sleep, rest and relax. The brain needs time to repair itself.
Go slowly. When your relative is cleared for normal activities, insist that he ease back into his daily schedule gradually. 
Get medical help. A doctor should examine him, diagnose him, and come up with a treatment plan.
Watch medications. Make sure your relative is only taking doctor-approved medications while he recovers, and make sure his doctor knows that he suffered a brain injury.
Has Your Loved One Been Injured in a Nursing Home?
If you believe your loved one is being subjected to nursing home abuse you need to speak with an experienced Kentucky nursing home neglect attorney as soon as possible. Contact us online or call our office directly at 888.450.4456 to schedule a free consultation.
Related Links: