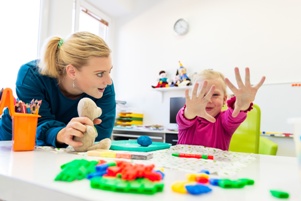 All children benefit from playing. Through play, children learn how the world works, how to interact with others, how to solve problems, and how to communicate. Play therapy is a type of psychotherapy that uses play to help children overcome a variety of obstacles, including trauma, grief, anger, depression, anxiety, physical limitations, and learning disabilities.
How Play Therapy Works
Play therapy should be conducted by a qualified therapist who is trained in child development and play therapy techniques. Often, the therapy occurs in a playroom that has a variety of age-appropriate activities. Therapy may include nondirective play where the child has the freedom to decide what to do with limited direction from the therapist, directive play where the therapist directs the activity, or a combination of the two approaches. Sometimes, parents and siblings may be invited to participate in a play therapy session.
How to Pay for Play Therapy
Play therapy can help your child learn to interact with others and improve his confidence. This type of therapy may begin when your child is two or three and continue until your child is twelve. Like other forms of non-surgical cerebral palsy treatments, play therapy can be expensive, and it may, or may not, be covered by insurance.
If your child has cerebral palsy due to medical negligence, you may not have to pay for play therapy out of your own pocket. Instead, you have the right to pursue a medical negligence case and to have past and future play therapy expenses included in your child's legal compensation.
For more information about how to pay for play therapy, other types of rehabilitation therapy, medical expenses, and other damages, please contact our experienced Kentucky cerebral palsy law firm today for a free, no-obligation consultation. You have a very short amount of time to file a lawsuit, and our compassionate lawyers and staff nurse would be happy to review your case and explain your legal options so that you can decide how best to protect your child's future.