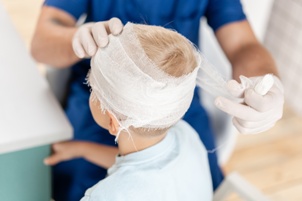 As a child grows, the bones in his skull fuse together. The lines where the bones fuse are known as suture lines. An impact to the skull in a car crash can cause those suture lines to widen and fracture. Since the suture lines are not completely closed in babies and young children, skull fractures along the suture lines, also known as diastatic skull fractures, are possible with head trauma.
Diastatic Skull Fracture Treatment
After your child is diagnosed with a diastatic skull fracture, his doctor may suggest treatment options. He may be admitted to the hospital for monitoring and observation. Additionally, surgery may be suggested if it is necessary due to the severity of the fracture or the specific location of the fracture. Surgery may protect your child's future, but surgery also has risks. It is essential to consider all of your child's treatment options and to get a second opinion if you are unsure about what to do.
Protect Your Child's Future
You have critical medical decisions to make for your child. You also have critical legal choices to make. If your child suffered a diastatic skull fracture in a car crash, he may be able to make a legal recovery for past and future financial losses, pain, and suffering. Specifically, a Kentucky brain injury lawyer can fight for your child's right to recover past and future:
Medical costs, including surgeries, hospitalizations, doctors' appointments, and other healthcare needs
Physical pain including the pain suffered from headaches, seizures, and other diastatic skull fracture complications
Emotional suffering for the things your child is missing out on and the psychological impact of the injury
Other financial losses directly related to the motor vehicle accident
To learn more about how to protect your child after a diastatic skull fracture, another type of skull fracture, or any kind of brain injury, please contact our experienced Kentucky brain injury lawyers for a free, no-obligation consultation.
Related Links: