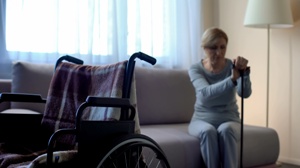 You are right to be concerned. Data from the U.S. Department of Health and Human Services Office of the Inspector General (OIG) indicates that nursing home abuse and neglect incidents are not always investigated or reported by the nursing home. A report issued by OIG in June 2019 found that nursing homes frequently fail to report potential incidents of abuse or neglect to both the Centers for Medicare and Medicaid Services and local law enforcement officials.
Take Action if Nursing Home Abuse Is Unreported
The nursing home failed your loved one in multiple ways. First, he was hurt by the intentional or negligent actions of the nursing home staff. Then, the injury he suffered from that abuse or negligence was not properly reported.
Now, it is up to you to protect your loved one's rights. Even if the nursing home did not report the incident to the authorities, the incident still happened, and you have a right to take action.
You will need to prove what happened to your loved one without the help of an official report, but you don't need to do it alone. Instead, we encourage you to contact our experienced nursing home injury team. We would be happy to talk to you, free of charge, to learn more about your loved one's injury. Then, if it appears that nursing home neglect or abuse could have caused his injury, our experienced attorneys and staff nurse will do a full investigation.
We will advise your loved one of his rights and legal options at every step in the process, and we will fight hard to hold the nursing home accountable for its actions.
Gray and White Law does not take every case that comes through our door. Instead, we choose to limit the number of clients we take so that we can provide high-quality legal representation and personal attention to every client we represent. Let us be part of your loved one's recovery. Contact us anytime—24/7/365—to learn more.
Related Links: