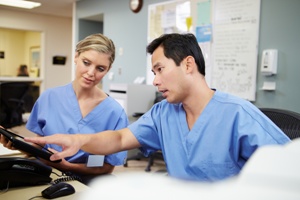 Yes, you could have a medical malpractice case if you can prove that:
The nurses or hospital owed you a duty of care.
The nurses or hospital breached the duty of care by failing to act reasonably given the circumstances.
You were hurt because of the breach of the duty of care.
You have a legal right to damages pursuant to Kentucky law.
Medical malpractice cases are often challenging, but with the right evidence and convincing arguments, an experienced delay-in-treatment medical malpractice attorney can help you get the recovery you deserve.
Risks During Nursing Shift Changes
Nurses are a critical part of your healthcare team. They often know more about your condition than other members of the team, including intangibles that are not included in your medical chart. They may be monitoring you to see if certain symptoms develop or your condition worsens, know how you like to take your medications, and what worries you. Nurses know what medical care you need, and when you need it.
However, nurses cannot and should not work around the clock. To prevent workplace fatigue errors, nurses must take shifts, and shift changes occur. During this time, nurses must communicate clearly and thoroughly with one another. The failure to do so can result in a dangerous delay of medical care that could cause you to suffer an injury.
Make a Fair Financial Recovery for Medical Malpractice Injuries
Hospitals should have policies about how nurses communicate during shift changes to ensure that your care is uninterrupted. Nurses have a duty to comply with these policies.
If miscommunication or a lack of communication during a nursing shift change causes you physical harm, you may have a medical malpractice case, and you may recover damages for your injuries. Damage may include compensation for all of your losses including medical costs, lost income, out-of-pocket costs, physical pain, and emotional suffering.
If your medical care was delayed after a nursing shift change and you were hurt by the delay, we encourage you to contact our experienced medical malpractice lawyers today to learn more about your rights. Call us, or start live chat with us, to schedule your free, no-obligation consultation.
Related Links: