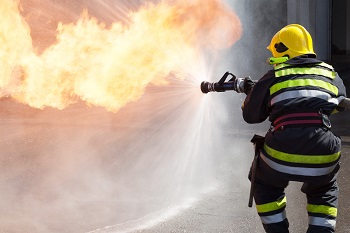 On August 1, 2019, a devastating pipeline explosion occurred in Lincoln County just outside a mobile home park. One person was killed, five were injured, and several homes were destroyed when flames from the resulting fire reached over 300 feet into the air. The explosion was so powerful that cars from a quarter mile away were hit with debris. Smoke could be seen in Louisville, nearly 70 miles away. A witness described the Kentucky natural gas explosion as being similar to an atomic bomb.
The pipeline section at the center of the incident belonged to the Texas Eastern Transmission (TETCo) pipeline, which spans 9,000 miles from the Gulf of Mexico through ten states before ending in New York City.
One of the nation's largest pipeline systems, the TETCo pipeline has had explosions occur before. In February 2014, an explosion left a 60-foot crater in rural Adair County, Kentucky and sent two people to the hospital. In April 2016, a portion of the pipeline exploded in Salem Township, Pennsylvania. In January 2019, an explosion occurred in Noble County, Ohio. 
Holding the pipeline owner, Canadian energy company Enbridge, liable for the injuries and property damage resulting from explosions can help prevent further tragedies. If you or someone you love has been harmed in a pipeline explosion, call the Kentucky gas explosion and fire attorneys at Gray and White Law today to discuss your legal rights.
How Pipeline Explosions Occur
Transporting pressurized natural gas carries inherent dangers. It can take several months to thoroughly investigate the cause of an explosion, but pipeline gas leaks can be caused by:
​Corrosion
Maintenance errors
Material or equipment failure
Improper installation
Over pressurization or other forms of incorrect operation
Damage during excavation
Cross boring
Natural earth movement
In Kentucky, the Kentucky Public Service Commission (PSC) is responsible for regulating and enforcing pipeline safety. After an explosion occurs, the National Transportation Safety Board (NTSB) steps in to investigate the cause. 
Injuries Caused by Natural Gas Pipeline Accidents
Pipeline explosions can cause a wide range of serious and permanently disabling injuries.
Burns. Unfortunately, burns are the most common injuries associated with natural gas pipeline explosions. Victims can require antibiotics to prevent infection, skin grafts, plastic surgery, and physical therapy. 
Respiratory problems. Inhalation of hot gasses can scorch and scar lung tissue. Smoke inhalation from the fire caused by the explosion can lead to severe respiratory problems. Victims may permanently deal with obstructed breathing.
Injuries from falling debris. Head injuries and broken bones are a possibility when victims are struck by debris from an explosion and the resulting fire. A traumatic brain injury can leave a victim with impairments that require 24/7 care.
Mental health injuries. The emotional toll associated with being a victim of a pipeline explosion can lead to a range of mental health problems. Victims may struggle with PTSD, depression, and anxiety. Medication and counseling can help, but they will still face a long road to recovery. 
Property Damage Associated With Pipeline Explosions
The force of a natural gas pipeline explosion is substantial. In the August 2019 pipeline explosion, property damage occurred within a 500-yard radius of the initial blast. Homes, businesses, and vehicles were destroyed, along with all of the personal belongings of the area residents. The landscape was left barren, leaving only dirt, rocks, and gravel.
Although dealing with injures related to the explosion should take priority, property damage also causes significant stress and anxiety for pipeline explosion victims. They deserve to be fully compensated for their losses. 
Protecting Your Right to Recovery
After a gas pipeline explosion, it's vital that victims have access to experienced legal representation. An attorney familiar with these types of cases can ensure that your rights are protected and that valuable evidence is preserved. This will help you receive the maximum possible compensation for your medical expenses, lost wages, property damage, and pain and suffering. 
Our Experienced Attorneys Are Here to Help
At Gray and White Law, we are committed to advocating for pipeline explosion victims and their families to receive the maximum compensation allowed under the law. Call today to schedule a free, no-obligation consultation with our Kentucky pipeline explosion attorneys.
Related Links: