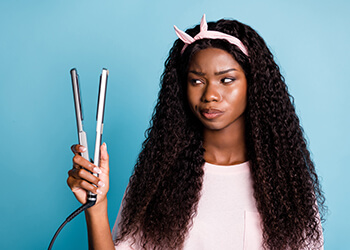 A new scientific study conducted by the National Institute of Health's National Institute of Environmental Health Sciences has discovered a possible link between chemical hair straighteners and uterine cancer. In addition, another study, published in the Journal of the National Cancer Institute, referred to as the "Sister Study," showed that individuals that used chemical hair straighteners more than four times a year were TWICE to THREE times as likely to develop uterine cancer than those who did not use the chemical hair straightener products. Even more troubling was data from the study that indicated that just a single treatment with one of their products within the past 12 months demonstrated an increased risk of developing uterine cancer.
What Hair Straightener/Relaxer Products Are on the Market? 
Chemical hair straighteners have been available for decades. Many cosmetic companies have hair relaxers or hair straightener products on the market such as:
L'Oréal and SoftSheen Carson (SSC): Precise No Lye Conditioning Relaxer Supreme, Salon Collection Relaxer Regular Strength Optimum Salon Haircare, Salon Collection Hair Relaxer Super Strength Optimum Salon Haircare, Multi-Mineral Reduced Ph Crème Relaxer, Optimum Smooth Multi-Mineral Crème Hair Relaxer, Multi Mineral Reduced Ph Crème Relaxer, No Base Relaxer, SSC Dark and Lovely, Moisturizing Relaxer with Shea Butter, Healthy Gloss Shea Moisture No-Lye Relaxer, Beautiful Beginnings Kids No-Mistake, Triple Nourished Silkening Relaxer
Revlon: Conditioning Crème Relaxer
Organic Root Stimulator (ORS) Olive Oil: No-Lye Relaxer, No Base Relaxer, New Growth Relaxer, Girls Hair Relaxer, Zone Relaxer, Professional Crème Relaxer, Mild Touch Relaxer
Mizani: Sensitive Scalp Relaxer, Butter Blend Sensitive Scalp Relaxer 
African Pride: Olive Miracle Touch Up No-Lye Relaxer, Olive Miracle Dream Kids Relaxer, Olive Miracle Anti-breakage No-Lye Relaxer, Olive Miracle Deep Conditioning No-Lye Relaxer, Olive Miracle Deep Conditioning Relaxer
Africa's Best: Herbal Intensive Dual Conditioning Relaxer, Originals Olive Oil No-Lye Conditioning Relaxer, Tough-Up Plus Moisturizing No-Lye New Growth Relaxer
Just For Me: Super Relaxer, No-Lye texture Softener, No-Lye Relaxer for girls
Soft and Beautiful: botanicals Regular Texturizer, No-Lye Regular Texturizer, No Lye-Sensitive Scalp Relaxer
ProfectivMegaGrowth: No-Lye RelaxeSoft and Beautiful 
Motions: Classic Formula Relaxer, Regular Relaxer, Silkening Shine No-Lye Relaxer, Smooth and Silken Relaxer
Silk Elements: MegaSilk Shea Butter Relaxer, Luxury Moisturizing Shea Butter Relaxer
Isoplus: No-Lye Conditioning Relaxer
TCB Naturals: Conditioning No-Lye Hair Relaxer, No Base Crème Hair Relaxer
Crème of Nature: Argan Oil Relaxer
The Problem With These Products
These products have been heavily marketed to Black women for years but have failed to disclose the potential dangers of such products. Many of these products contain formaldehyde and formaldehyde releasing chemicals, phthalates, parabens, and bisphenol-A. These chemicals have been shown in past studies to be linked to breast and endometrial cancer, but this recent study is the first to show a potential link to uterine cancer. 
The marketing of these companies is disturbing considering that many products are marketed to children to get them to start using the products at an early age and then continue into their adulthood. In addition, the way some of these relaxers and straighteners are to be applied requires the use of hair dryers and flat irons which may add additional increased risk by causing more of these cancer-causing chemicals to be released into the body through the scalp and skin. 
Uterine Cancer Rates Highest Among Black Women
According to a study by the National Cancer Institute, uterine cancer rates in the United States and Kentucky are highest among non-Hispanic Black women.  The researchers found that from 2010 to 2017 Black women had more than twice the rate of deaths from uterine cancer compared with other racial and ethnic groups. 
Historically, African American women have a disproportionate rate of incidence of cancer. This includes the highest mortality rate and the lowest survival rate. In 2022, there will be 224,080 new cancer cases and 73,680 cancer deaths among the demographic in the United States. 
In Kentucky, the rate of uterine cancer has significantly increased since 1995. Black women suffer from a significantly higher uterine cancer mortality rate when adjusted for age. 
These new studies demonstrating a potential link between hair straighteners and relaxers and uterine cancer is alarming. Corporations manufacturing these products and aggressively marketing them to the public have a responsibility to ensure their products are safe for their intended use. IF they do not, Kentucky law allows them to be held accountable for their actions. 
We Can Help You File a Chemical Hair Straightener Lawsuit
Our firm has over two decades of experience fighting large corporations when their products cause Kentucky residents harm. This includes successfully resolving cases against some of the largest companies in the world when their products have caused cancer. We are based in Kentucky and only handle clients that are based in Kentucky in these types of cases. In addition, we have the resources, experience and track record of success to provide the best possible representation. 
Contact Our Kentucky Personal Injury Lawyer for a Free Consultation
If you or a loved one has been diagnosed with uterine cancer and have used chemical hair straighteners or relaxers, you may have a claim for damages. Fill out our online form or contact our Kentucky personal injury lawyer by phone at 502-210-8942 TODAY for a FREE case evaluation.