The staff at a nursing home or long-term care facility has a duty to ensure the safety of each resident that lives at the facility. Residents in nursing homes shouldn't fall. Falls cause serious injuries, such as severe head wounds or broken bones. However, one of the most debilitating, and common, injuries that can result from a fall is a broken or fractured hip.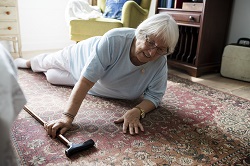 Hip Injuries Resulting From Nursing Home Falls
Accidental falls are the cause of 95 percent of broken or fractured hip injuries among the elderly population. Advanced age enhances the risk of sustaining an injury to the hip as the result of a fall. A fractured hip is the most likely injury to occur when an elderly man or woman falls. Each year in the United States, nearly 300,000 persons experience a hip fracture. Nursing home resident falls lead to a 200% greater risk of hip fracture as compared with the general population.
Hip Fractures Resulting From Nursing Home Falls
A hip fracture is a partial break caused in the bones forming the hip. Most hip fractures occur to the femur, the largest bone in the human body and the bone that connects the knee to the pelvis. A fractured femur is one of the most excruciating injuries to suffer. First, it is common for the ball end of the femur, which fits into the hip socket, to crack just below the ball of the bone. It is also common to fracture a small portion of the femur that juts out slightly from the length of the bone. Regardless of where the fracture occurs in the hip region, surgery is often required. When surgery is required for an elderly man or woman, it bears life-threatening risks or complications and long difficult road to recovery.
 
Depending on the severity of the fractured hip, surgery could require the insertion of a few pins, screws, or metal plates to hold the bone in place while it mends. However, for more severe fractures, or fractures that disrupt or deprive parts of the femur from receiving an adequate supply of blood flow, a doctor will likely recommend partial or total replacement of the hip joint with an artificial hip. A partial hip replacement usually requires that the ball head of the femur to be cut off and removed and then replaced with a metal prosthesis. A total hip replacement requires that the whole upper portion of the femur be removed and replaced with a metal prosthesis.
 
Hip replacements in an elderly man or woman is a dangerous surgery which will require many months of rehabilitation and physical therapy, and will require pain management medications. In addition, there is a high risk of injury due to the use of general anesthesia which is required in a total hip replacement. When a nursing home resident is trying to recover from a fractured hip surgery or replacement, it makes the resident a much more likely candidate to suffer another fall in the future, especially in an understaffed nursing home. In addition, hip fractures in the nursing home lead to infections and pressure ulcers (due to lack of mobility), functional decline, and poor quality of life. Not surprisingly, mortality is high following a hip fracture in the nursing home: one in every three nursing home residents will die within 180 days of a hip fracture.
Has Your Loved One Suffered From A Hip Injury At Their Nursing Home?
Once again, it is very important that the staff is vigilant in preventing falls at nursing homes. When a nursing home resident suffers a fall, it is almost always a sign of nursing home abuse or neglect. If you have a loved one who has suffered a hip injury as the result of a fall at a Kentucky nursing home and you are concerned about nursing home abuse or neglect, please contact us online or call our office directly at 888.450.4456 for a FREE CONSULTATION.