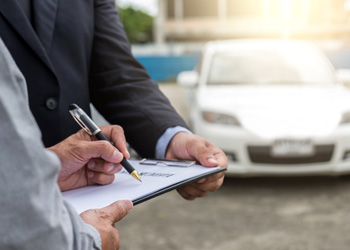 The driver who caused your car accident purchased car insurance for the same reason you did—because it is required by Kentucky law to cover any injuries or damages resulting from a crash. You assume that when an accident occurs, the insurance company will come through and pay what it owes. Hate to break it to you, but these companies will do whatever they can to make you settle for less. Keep reading for 4 insurance company tricks to avoid after a Kentucky car accident.
Insurance Companies Don't Want to Pay Fair Car Accident Damages
Insurance companies maximize their profits by taking in premiums and then paying out as little as possible in claims. Accordingly, some insurers will try to either get out of paying car accident damages or they will try to settle claims for less than they are worth.
4 Insurance Companies Tricks Used to Minimize Claims
Insurance companies may try to:
Get you to settle quickly for less than your case is worth
Get you to say something that could be misinterpreted to harm your claim
Confuse you so that you agree to something that is not in your best interest
Delay your claim so that you are desperate to settle
An experienced Kentucky car accident lawyer can help protect your rights even if the insurance company resorts to one or more of these tactics.
Contact Our Kentucky Car Accident Lawyers to Get the Recovery You Deserve
Our experienced Kentucky car accident lawyers are well aware of the games that insurance companies play to minimize car crash recoveries, but we don't care about the insurance companies' profit margins and we definitely don't fall for insurance company tricks. Instead, we are dedicated to getting each and every Kentucky car crash victim we represent a fair and just recovery. Our kentucky car accident lawyers know how to negotiate with insurance companies to get those recoveries. If an insurance company is unwilling to settle for a fair and reasonable amount, we will not hesitate to represent our client in court and to make our case to a judge or jury.
To learn more about how our Kentucky car accident lawyers can help you after a crash, please contact us online now or call us any time to schedule a free, no-obligation consultation.