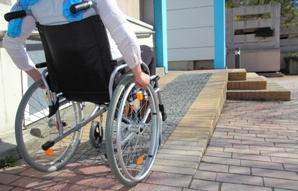 Your goal is to have your child live a safe, comfortable, and happy life, and you would do anything to make that happen. The quality of life for many people with cerebral palsy (CP) can be improved with modifications to their homes and the vehicles they ride in regularly.
Alterations and Additions to Accommodate Children With CP
Your home may be renovated to remove barriers that require your child to be dependent on others. For example, some of the changes that you might consider for your home include:
Adding a ramp outside your house
Adding an interior lift for stairs inside the house
Lowering the bathroom sink so that your child can reach it from a wheelchair
Widening doorways and hallways to accommodate a wheelchair
Installing grab bars
Putting lever doorknobs on doors
Making your home a "smart" home where lights, alarms, heating, cooling, and other functions can be voice-activated
You also have options for altering your car or van. For example, you could:
Get a ramp or wheelchair lift installed
Install seat transfers to help your child get into a car seat
Install safety features to secure a wheelchair
Like all people, children with cerebral palsy have different needs. Not everyone needs all of the modifications described above, but many people may benefit from one or more of these variations.
How to Pay for Home and Car Alterations
Home and vehicle modifications may be just some of your family's significant costs. If a doctor's, nurse's, or hospital's negligence caused your child's cerebral palsy, they should pay for all of your child's expenses, including home and vehicle alterations needed now and in the future.
Medical negligence has already cost your child so much. Now your child deserves to have the home and vehicle modifications he needs to maximize his safety, independence, and happiness. Let our experienced cerebral palsy birth injury lawyers help you fight for a full and complete recovery for your child.
Call us today or start a live chat with us any time to schedule your free, no-obligation consultation.